If you have tactile kids who loves to craft, then a Rigid Wrap and CelluClay Quik-Sculpting Kit from ACTÍVA Products could be a huge hit in your household. If you have a sensory defensive child who gets squeamish with anything goopy or wet, then you may still welcome
this product as a therapeutic sensory diet tool which is big on sensory input, yet relatively easy to use and clean up and which also just happens to be
100% wheat- and gluten-free, non-toxic and non-carcinogenic!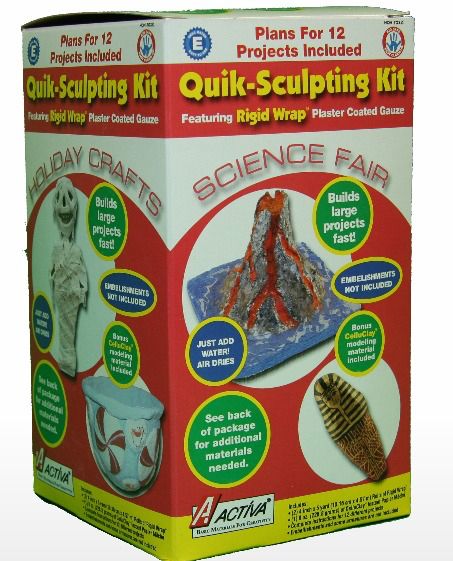 Our Experience
In my home, we have two children who love to dig in and get their hands dirty and one who has an aversion to many textures. Thus, I opted to review
Rigid Wrap and CelluClay in hopes of delighting my two tactile kids, while possibly enticing my sensory-defensive child to join in on some creative fun. So far, only the former has happened.

My two "hands in" kids have wrapped, shaped, sculpted, and painted, creating their own little projects, while their tactile-defensive big brother circled round, got curious, asked a lot of questions, and observed, but has yet to jump in on the fun.

Because my oldest, unfortunately, has been having a tough summer, I did not "force" - or even strongly encourage him - to use the
Rigid Wrap and CelluClay with us. For I knew that it would only exacerbate things. What I did do, though, is quietly ask my younger two to keep their projects small, using only a portion of our kit, so big brother could use some later.

Of course, when my oldest heard me suggest saving some of the plaster cloth and quick-set papier-mache mix for him, he declared that he has no interest in trying them. However, as an observant mother, I could already see his curiosity piqued and his brain ticking with ideas for how the materials might be used. And, okay, I admittedly fed my son's quite-active brain by letting him happen upon me browsing project idea videos on the
ACTÍVA Products website.

"Mom, can I watch to... Oh, that's cool... I wonder if..."

Yes, as my son commented while watching videos of various applications for
ACTÍVA Products, seeds were planted. I am confident that as they germinate into visions of original projects for a future homeschool fair, products that might be sold at our church bizarre table, or a 3-d design that my son's imagination has cooked up, my son will be asking to use our remaining
Rigid Wrap and CelluClay. Years of parenting my child has proven to me that patience and timing are everything. So, I am excited to have this easy-to-use, versatile sculpting media on hand for when the ideal time for overcoming sensory aversions while making visions realities arrives for my oldest.

Meanwhile, my younger two have been asking to use some more of it.

They had fun experimenting with it.

My daughter decided to adapt an idea from the FREE, full-color
ACTÍVA Products' Favorite Sculpture KIDS CRAFTS e-book in order to craft a St. Anne doll for our upcoming feast day celebration.

My son asked if he could make Daddy a tiny football to keep at work.
Then, my daughter decided to make an even tinier one.



Our Creations So Far

My younger two children both had fun cutting
Rigid Wrap plaster cloth, dipping it, wrapping it, and smoothing it. Then, they patiently waited overnight for their projects to dry before finishing them off.

Their projects could have been dried more quickly in a microwave, but we don't have one in our kitchen, so just left their projects out overnight.
The children only used Sharpies and paint to finish their projects off - but I hear other finishing media can work, too.

My daughter also used white glue to attach a baby Mary to her Saint Anne statue. Hot glue or more plaster strips would likely have worked just as well, I'd guess.



Our Thoughts


Overall, I was quite pleased with the
Rigid Wrap and CelluClay Quik-Sculpting Kit and can attest that is just what it is advertised to be:
"A paper mache kit ... (and) excellent way to try the materials before moving on to larger projects... ideal for kids crafts and science fair projects (with)




2 - 4" rolls of Rigid Wrap

8 oz. of CelluClay

Complete instructions for 12 projects"
The only thing the kit lacks, in my opinion, is clear, easy-on-the-eye instructions on how to use the materials and build the suggested projects. (Inside the box is only a photocopied page with relatively minuscule print.) This drawback is easily remedied by going to the
ACTÍVA Products website, though, where you'll find loads of helpful resources and ideas, such as:
Truly, the physical kit, when paired with the website, can easily unleash sculpting and creativity in children! I am happy to have been introduced to this crafting media.

My youngest, at seven said:
I liked the texture of the dry strips, and liked how it sticks (when it is wet). It was easy to clean up.
My daughter, at ten, said:
I liked how you can wet the Rigid Wrap and wrap it around your cardboard. It was fun, but messy to use, because it was dry and had holes, then, you wet it, wrapped it, and, then, rubbed it to make the holes disappear. It wasn't too messy though.



I let mine dry overnight, and, then, I painted it. My project was a statue and it was good. I even made a baby to glue to it.

I want to use this stuff again. My brother also made a football, and I did, too.
Learn More
If you'd like to see what all 85 Review Crew families who reviewed
Rigid Wrap and CelluClay Quik-Sculpting Kits made, just click through the banner and take a peak.