Do you have a young child interested in learning how to play the piano? Are private lessons outside your home (or expensive ones at your home) not an option for your family? Do you want to subtly integrate a variety of developmental skills into music lessons at home? Would you like to discover if your children enjoy learning piano before investing in a "real piano" or an expensive weighted keyboard?
Then, let me tell you about an awesome online piano program that my children and I have been enjoying since January as part of the Schoolhouse Review Crew: KinderBach!
KinderBach is an online music program for children ages 3 to 7 (although that didn't stop our 8 year old nor me – a 40-something-year-old – from enjoying the program, too!) In fact, all three children and I tend to use The KinderBach Online Piano Lesson Membership with Teacher Corner

as together-time during our daytime play-and-learning periods and our post-dinn

er intentional family times.
Regardless of whether we use it during our focused learning times or our family fun times, Kinder
B
ach is a hit here!
What is the KinderBach Online Piano Lesson Membership with Teacher Corner?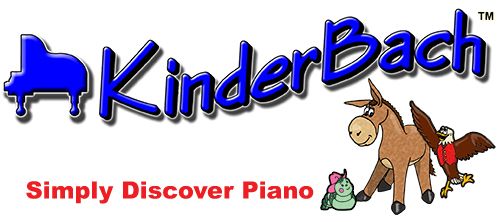 It is six levels of engaging music education for young children, ages 3-7 years old, but can be used with children slightly younger or older depending on the child and the family circumstance.
That education is presented through about 22 hours of video and accompanying interactive fun pages that are broken down into short segments so you can do one mini-lesson at a time, in about 5-10 minutes, or a marathon on days your children are up for that! (The sessions are broken down into weekly units of four sessions each, but since it is an online program, you can go at your own pace!)
My oldest eagerly awaits to see if Miss Karri will tell him to use a rhythm instrument again. I have been surprised with how engaged our 8-year-old has been with KinderBach lessons.
Within each of the approximately 240 sessions, Miss Karri, the energetic and clear video teacher, introduces young children to a wide variety of music skills with the help of the the keyboard characters (cute cartoon characters that help children remember things about the piano keyboard). Together, Miss Karri and the keyboard characters gently teach preschoolers (and early elementary-age children) how to:
play simple songs

identify music direction

master new rhythm notes and their beat value

maintain proper hand and finger position for the music scale

read staff notes by pattern for voice and keyboard.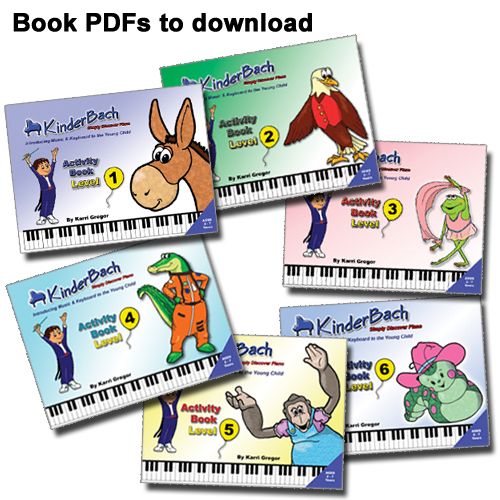 With membership, you get:
access to all web lessons by computer, Android Tablet, Kindle Fire, Nook or iPad. (We used only our computer)
accompanying pdf activity pages for students
$400 worth of instant-access Teacher Corner materials that can help you supplement video lessons or teach the same materials on your own without the videos if you wish (which is handy for teaching group lessons or just for taking a break from screen time)
Audio MP3s for all six levels of KinderBach lessons
downloads of storybooks, coloring pages and song books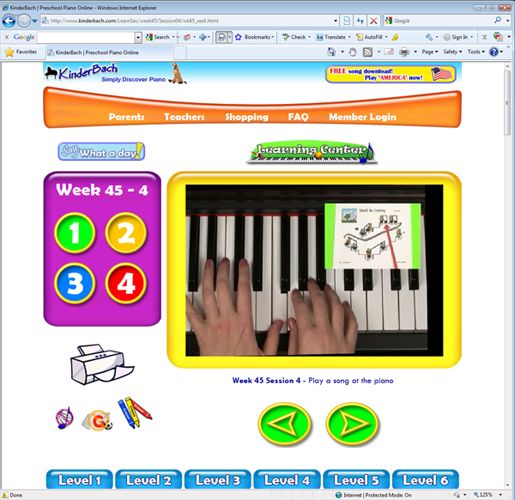 Besides computer access for the videos, of course, to take full advantage of KinderBach, it is helpful to have a printer, colored pencils or crayons, scissors, printer paper, cardstock, something that can be used as a rhythm instrument, and, of course, a keyboard of some sort. In all honesty, a "real piano" or expensive weighted keyboard are not needed. Children really can learn and enjoy with KinderBach with an inexpensive "play" keyboard.
Our Experience with KinderBach
From the first evening we used KinderBach, my children were drawn in not only by the music, but by Dodi, one of the keyboard characters. In fact, they were enjoying themselves so much during our post-dinner family time with KinderBach that they asked me if they could do "one more session". Who was I to say "no"?
You do not need a keyboard for the first few sessions of KinderBach, but my children wanted to take out the small play one we had. Also in this picture, you can see an orange New Year's clacker that the kids used to dance and play rhythm along with the lessons and a high-low coloring page that the children did along with an on-your-feet hi-low activity.
And, who was I not to learn that my children would always ask for "one more session"? By our second day experiencing KinderBach lessons, I realized that since each session is short and engaging my children will inevitably ask for "more" each time. Henceforth, when planning our KinderBach times, I learned to say we will do x-amount of sessions, but to plan to actually do x+ 3 or 4. That way, the kids and I experience a win-win-win: I manage our time; the kids hear me say "yes" to their requests; and we all get a bit more music education in.
My t

wo

younger children are enthusiastically practicing rhythm here with a KinderBach online video. (Forgive the bathing suit on my little girl. She had been playing "Wonder Woman" just prior to our lesson. (But isn't it great that when you do online lessons, you can do them in jammies and costumes as our snapshots evidence!?)
Some days I plan for only one session, and we do two, thereby completing a half a week's worth of lessons. Other days, when we have the time and the children wish to, we do stretches of several weeks of lessons at one time. And, that, I think is a boon of KinderBach: It is flexible!
We can easily fit KinderBach lessons into our weekly rhythm without hopping into the car, worrying about scheduling or, as sometimes is the case with young children, dealing with the behaviors that spring from wanting more time or less time with an activity at any given moment. In a home with a sensory kid and a handful of strong, busy adult and child personalities, this flexibility is key.
It may be difficult to see in this snapshot, but the activity page the children are doing is on "loud" and "quiet" sounds. I love that lessons gently highlight such developmental skills such as auditory discrimination and early learning topics such as opposites.
Another boon of KinderBach as we experienced it is the breadth of learning inherent in it. Not only do KinderBach lessons teach the piano and music lessons one might expect, but they incorporate a variety of early development skills and objectives while doing so. Some of the things the "teacher side" and "special needs parent" side of me has noticed in the well-planned KinderBach lessons are:
encouragement of fine motor skills through coloring, cutting, pasting, finger plays and more
auditory discrimination exercises
physical exercises and movement breaks that encourage proprioceptive input and total body response
opportunities to plan and execute (in each week's lesson introduction, Miss Karri says what will be needed for the lesson. Children can gather these materials before beginning, which provides a simple, but effective opportunity to practice planning and preparation.)
Here, my youngest is practicing his fine motor and coordination skills by cutting out "stations" to place above sets of three black keys while Big Brother checks if Little Brother has put the stations in the "right" places. (Again, pardon the realness of our snapshots. As is obvious from my son's face and shirt, we'd had defrosted berries at our meal before this lesson. And, once more, can I say I love the convenience and ease of at-home lessons. Our youngest washed his hands, but wanted to change his top and wash his face after KinderBach lessons. Since our piano lessons are at home, this was no problem!)
Plus, of course, every KinderBach lesson includes sound music theory and piano lessons presented at a pace and with a nature that make them effective for young children!
A Balanced View
The kids and I have been loving KinderBach for the past six weeks and fully intend to learn and play more throughout the remainder of our six-month membership, and maybe longer. The top three things I like about KinderBach, if they are not obvious already are that:
Lessons can be done at home, at your own pace with flexibility.
Activities included in the lessons are engaging and well-balanced and incorporate more than just music skills.
I can learn right along with my children. (I have always wanted to learn to play the piano, and, although if I were to take online lessons for just me I'd probably pick something a bit more "grown up", KinderBach lessons are still teaching me a few things alongside my kids!)
My daughter,

randomly

dressed a a princess, happily practices "Chug, Chug, Chug", an original KinderBach song.
On the flip side, I can see a few potential drawbacks for some families in using KinderBach:
Children who already have some experience with piano may find the lessons too "slow" at first and those on the upper end of the targeted age range may find them "babyish" (although my 8-year-old has not).
The current introductory price of KinderBach membership, which is $95.88 a year, or $7.99 a month, may be hard for some families to budget for. (However, considering there is no gas to put in your car and more than one child can use the membership, it really is a bargain!)
Some children may wish to play familiar songs right away. (KinderBach eases children into song playing and begins with songs specific to the keyboard characters that familiarize children with the piano keyboard as opposed to beginning with teaching typical familiar children's ditties.)
My Bottom Line
If you want a gentle, engaging introduction to piano for your youngsters and the convenience of lessons at home (or even on the go if you have an iPad, Kindle or Android Tablet), KinderBach is well worth looking into!
KinderBach can be effective for homeschoolers, afterschoolers, co-ops and teachers of small group lessons. My children and I have been thoroughly enjoying our membership and encourage others to give membership a try for free with the try-before-you-buy option at the Kinder

B

ach website
or to
jump right into reasonably-priced paid membership starting as low as $7.99 per month.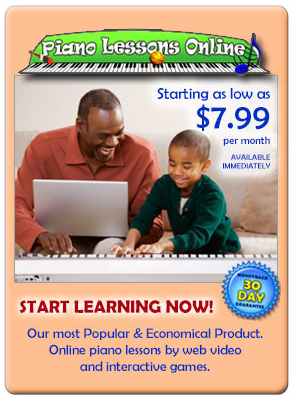 Want to Learn More?
To learn more about KinderBach, you can find them at:
And, if you'd like to hear what others think about Kindebach, please click on over to read any of 90 or so honest reviews at the Schoolhouse Review Crew page.

Do you have specific questions you'd like me to answer about our KinderBach experience? Just ask. Or, have you used KinderBach, too? Feel free to share them in the comments.