<
<-- Luke helps Jack say his Morning Offering.
Last week,
we began a Prayer Pegs serie
s to share how we are taking action steps to share
our primary goal
of loving and serving God here at Jammies School.
One habit we are trying to instill in our children is that of
beginning the day with grace, gratitude and intention through praying a simple Morning Offering.
We hope this Offering also helps them
open
up a daily "conversation" with God, so that they might begin to "pray unceasingly.

"
So, when the kids wake up, after giving and receiving "good morning" hugs and kisses with Mom and Dad, we help them say this simple prayer:
"Good morning, God! I thank you for this day. Please be with me in all I think and do and say."
Some days, Luke and Nina say this Morning Offering on their own. Other days they say it in unison with me. Still, at other times, they ask me to say it for them or tell me they have said it in their heads. Each day is different. But, the important thing is that each day begins with mention of – and thanks to – God! The vital daily conversation with Our Father begins.
It continues, less formally, as the kids enter into free play while Mommy does chores and whatnot. Case in point: One recent morning, I heard Luke and Nina talking about church, God, priests, etc. while they played with their Little People and Mega Blocks. Part of their dialogue was conversation with one another, but part of it became a sort of prayerful conversation with God. All of it was completely kid-prompted and integrated into their play. It made me smile, confirming for me that our focus on pegging prayer to regular parts of our daily lives – even if not done perfectly nor consistently – has created
an environment where "God play" and prayer come spontaneously and naturally
. That is just what we are aiming for! What a great start to the day that was.
Eventually, we hope to add a more formal, traditional Morning Offering to our Wake Up Time Prayer Peg, as well as whatever other personal and creative forms of prayer and faith formation speak to us. Your ideas, resources, links and stories about similar endeavors for babies, toddlers, preschoolers and "big ones" would be most welcome. Please leave a comment to share your favorite Morning Offering prayer, way of praying unceasingly, etc. And, check back with us next Wednesday for our continuing Prayer Pegs series.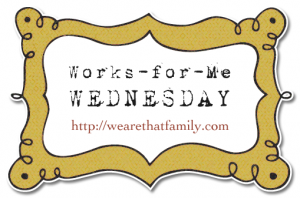 Also, be sure to visit the
Works for Me Wednesday links at We Are THAT Family
to see what works for others this week at home, work, home education, and, of course, prayer. Starting our day off right with a Prayer Peg sure do work for us!