My home needs all the help it can get, so I was happy to review The Everyday Family Chore System from Everyday Homemaking over the past month.
Everyday Homemaking was written by Vicki Bentley - a Christian homeschooler, author and speaker, and parent who raised raised her own eight daughters and fostered nearly 50 other children through the years, too. Thus, as you can imagine, the book is written in a succinct, helpful, down-to-earth way that can help you create structure and routines that will help your children:
to be responsible members of a family who diligently serve one another

become efficient at chores and living skills as they go from observing you performing specific tasks, to doing them alongside you, to doing hem on their own.

I received a 90 page PDF version of
Everyday Homemaking and found it a motivational and practical read. The book consists of five parts:
(1) The Introduction:
This portion of the book captured me right away as it is subtitled: "You may be wondering:Who is this woman, and why is she telling me this?" and, then, goes on to explain just that. As it does, the author explains that she is "n
ot a child training expert; (but) simply a well-practiced mom who has made a lot of mistakes along the way, tried to learn from them (with God's grace), and is willing to share what has
worked for our family over the years.

" She also says that as a response to requests, she is sharing "some of the principles that worked in her family and some examples and ideas to provide a springboard – and hope!"
Hope! Yes! That is what my household needs. I am such a poor housekeeper, and, despite years of working to improve my own habits and to build better ones in my children, we are all very much works in progress. So, having tried-and-true tools and wisdom to help my children and I all become increasingly responsible, caring, sharing members of of our family when it comes to household tasks - and just life in general - is a blessing.
(2) Laying a Foundation

This section discusses child training from a Christian perspective and
details four principles:
Have realistic and age-appropriate expectations.

Establish rules or standards.

Have a working knowledge of family discipline

Tie strings to their hearts.

What stuck out for me most in this section was the reminder that
:
We want our kids to show stellar character and good judgment in their

decisions. However, it has been said,

"Good judgment comes from

experience. Experience comes from bad judgment."

Give them opportunities

to learn from mistakes when they are young, being sure that the

consequences are safe and relatively temporary.
Paired with a powerful comparison between how we react as parents when children do things wrong as opposed to how a policeman speaks and acts when pulls someone over for speeding, the section was quite timely for me to read. One of my children, in particular, has been pushing limits a lot lately and my reactions to his pushing could be improved, I know.

The reminder that, "Someone will very likely test the rules today. It is just part of the territory when you're a parent. You can prepare yourself in the family service arena by having age appropriate
expectations, pre-set consequences, and a sense of humor," was an excellent one for me!

(3) Implementing the Plan

This section gets into the nitty gritty of how the author used her system when raising her family and how you might tweak it to best fit your own family. It includes practical examples, some sample lists and charts, and, most appreciated by me, a down-to-earth voice of wisdom that encourages us to reach for ideals while still living with what's real in the moment.
Within this section is my favorite "tool" of the entire book: a two page Life Skills Checklist that begins at Age 2 and moves through age 13+. This list has some dated items on it (such as, "Make a long-disance call," and "Use a payphone.").
However, the majority of it is relevant and helpful, with the BEST part (in my opinion) being little numbers in brackets after listed skills, which give you an idea of when a child should master a skill. So, for example, under Age 5, it says, "Put away clean clothes (9)" That means a child of five is capable of beginning to be trained in the job, but may not master it until age 9. And, under Age 4, it says, "Learn to swim (12)", so it looks like my kids are right on target. We got them in water early and they are still mastering their strokes.
This section includes pre-labeled cards and tags - as well as blank ones - to be copied or printed and prepared for use. Cards are printed on every other page so you can just print, cut, and go with them if the author's cards work for you. If they don't, you can use them as a sample for making your own, or supplement them with your own made from blank cards.

When I received the book, I was most excited about the detailed How-to-Do-It cards in this section, because I have long wanted to make similar ones for my kiddoes, but just have not gotten to doing so. However, upon reading the cards carefully, I realized they weren't quite right for our home situation, so I am just using them as models to develop my own - appreciating their detail, and, at times, humor. (Or at least I find some humorous!)
Yep, those details highlighted above speak of wisdom and motherhood to me!
...And this one (above) cracked me up. Does she know my kid?!?
Yes! How often do the highlighted things become a small issue in my home?
(5) Suggested Resources
The final pages simply list other
books and online ideas from Everyday Homemaking.
How I've Used the Book

Obviously, I read the book with an encouraged and thankful heart. So many parts spoke to me and I found myself jotting down both inspirational and practical ideas. In the end, though, I did not, however, choose to implement the system as written. I could just see clothespins and detailed paper cards adding to the clutter in my home instead of working to curtail it at this point (because our home is hugely cluttered and is exploding with paper as it is!)

Still, I took parts of the book and system to heart and am rolling ideas from it into our existing routines.

We have long had a Five Before Breakfast routine, which, at one point, was even written on a hand-shaped paper cut out like one shown in the book.
We have also had an established Family Work Time (FWT) period, during which the children (sometimes Daddy) and I work together for 30 minutes on household chores, sometimes together and, sometimes, independently. When I began this habit, my intention was to train children in jobs much the way this book explains how to, and, then, to request they do those jobs independently while I do other ones. However, as I looked at some of our recent FWT lists, I realized we've been in a holding pattern - where children are doing familiar jobs, but I have not been training them in new ones. Thus, the book's Life Skills Checklist and Detailed Work Cards have come in handy for me in deciding what skills to train my children in next (both for FWT and just for life!)

Another thing we have had for a while are Job Jars. When I initially made these, they were meant to help us with FWT as well as with times when the children wanted to spend their free time earning special privileges. Basically, I wrote tasks on popsicle sticks and set them in a jar. When a child pulls a stick, the child completes the tasks and puts it in the "thank you" jar. Daily, I reset the daily jobs to the first jar and, weekly, I reset the weekly ones.

On one side, sticks are labeled with the location of a task and if the task is a daily (D) or a weekly (W) one. On the other side, a specific task is written. I also put a colored line at one end to indicate which of my children had been trained in the task (blue for my oldest, pink for the next child, and orange for my youngest) That way, my children can quickly pick tasks they are able to do!

Use of these jars comes and goes in our home, but has definitely increased again since I read
Everyday Homemaking. I have also realized it is time to draw some additional color lines on some sticks as my youngest has been mastering new tasks, and there are quite a few tasks we could well use to add to the jars! (Again, the book's lists and cards come in handy for me as a resource. I use them to judiciously add jobs.)

Finally, the Life Skills Checklist has me thinking more specifically about what Practical Life activities to focus on this year. In reviewing the list, I realized my children are "ahead" of the game in a few things, but there are quite a few skills they could use introductions to or mastery of, so these two helpful pages are becoming our Practical Life "backbone" for the year. Thank you, Vicki Bentley!
Would I Recommend This?



I most certainly have gleaned encouragement and practical ideas from
Everyday Homemaking, so would recommend it to:
parents who are just starting out with chore systems and want a tried-and-true one that is flexible or copy-and-go depending on your style

parents who seek to revamp their existing chore systems using tried-and-true wisdom

parents seeking ideas on how to increase accountability and responsibility in their children

.

I would no recommend it to people who do not like reading things from a Christian perspective, though, as the author's Christian world view comes across strongly in the book. That said, even for folks like this, the book could be helpful as the chores system, some tips, and tools within it would work in most homes, I think!
Everyday Homemaking truly presents tips and tools that can be added to your current chore habits and routines to revitalize and improve them, or the system described in the book can be used on its own as a "new" complete chore system for your household!
Learn More
The Everyday Family Chore System typically sells for $15.99 as an e-book or $19.99 printed, however, until September 5, you an use the DISCOUNT CODE TOS10books at checkout to receive a 10% discount on any of Vicki Bentley's books!

You can find Everyday Homemaking on Facebook.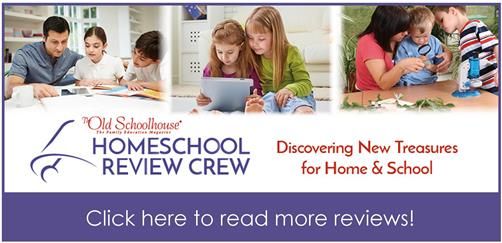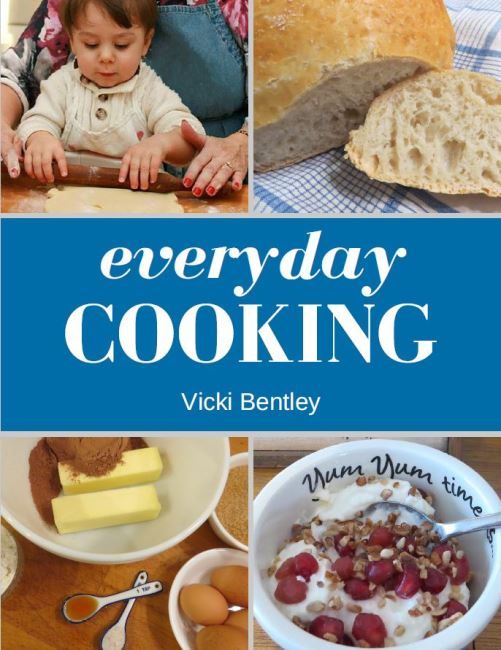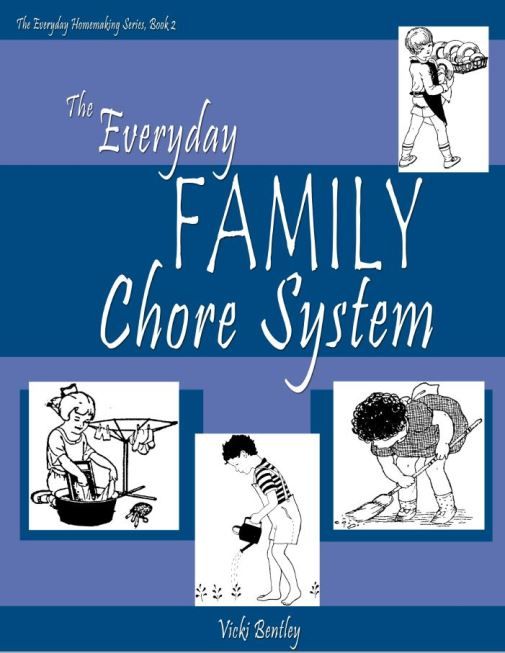 How do you help your children see helping with household tasks as a way to serve your family and, then, train them to serve with efficiency and diligence?