A new cooperative board game has come into our home recently - Commissioned by Chara Games - and I could not be happier with it. It's been such a joy to witness my children teach themselves how to play it and, then, have them share their newfound "expertise" with me.

What is Chara Games?
Chara Games
was founded by
Patrick and Katherine Lysaght, a husband and wife team, in 2014 with the aim of creating tabletop games which families and friends can enjoy while exploring historical and modern Christianity. The word chara is Biblical Greek for "unspeakable joy", and
Chara Games seeks to make joy its mission by "
building games that create joy by developing relationships with God and people."


What Is Commissioned and How Did We Expereince It?

Commissioned is a strategic board game inspired by history from the first 150 years after Christ. Although overtly Christian in visual design, the game focuses more on history and strategy than on Christian doctrine, so it can appeal to gamers of all creeds and beliefs. It does include some Scripture within the game pieces, however, as well as a printed Appendix with further information about the Christian history the game is inspired by. Thus, those seeking to learn or teach more about faith in context to the game can easily do so.

When we received our review copy of
Commissioned, my oldest child (10) was eager to break it open and to start playing I did not have time to do so with him right away and was a bit wary about letting him have at it on his own, because the game has so many pieces, which I did not want getting lost.

After some begging on my son's part, however, we agreed to open and inventory the game together, and, then, to let my son see if he could figure out how to play it so he could each me when I was ready to sit down with him.

Honestly, I thought my son might be overwhelmed by the sheer number of pieces to the game, but he wasn't. In fact, as he laid his hands each of the following items, his excitement to play only grew:
1 double sided game board (which my son showed off at a recent Geography club when we were talking about types and purposes of maps.)

5 double sided scenario cards




6 unique player boards (

which are beautifully illustrated)

96 faith cards
27 trial cards

4 wood missionary meeples

75 wood church member cubes

1 wood elder's staff (which my children love to pass around)

6 wood player pawns

30 double sided stop tokens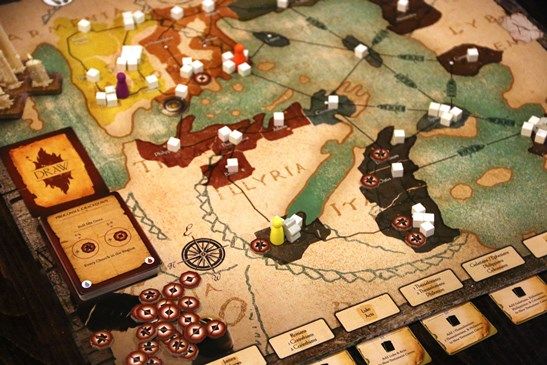 5 double sided extinguish tokens

1 converted city leader's token

1 Roman Legion token

1 8-sided die

1 rule book

1 Theme Appendix
Beautifully
designed for ages 14 and up,
Commissioned is not an open-and-play-in-minutes sort of game. Honestly, it is a bit complicated to get the hang of at first. However, not too complicated. In fact,
my 10-year-old had no trouble figuring out how to play with the help of the instruction booklet and a few videos online.
Once my oldest figured out how to play
Commissioned, he got his younger siblings hooked on playing the game with him. They quite enjoyed the game and did not mind that it lasted well over the expected hour of play the first time they played it.

Since then, the children have coached me in how to play
Commissioned and have played it on their own, too. They have played with as little as two players, but not yet played with a full compliment of six players.

To play, basically, each player takes on a role as an apostle, using a skill from the Faith Deck in order to help grow the church. Players aim to collect the New testament books and overcome historic trials while strengthening their Faith Decks.

During the game, each p
layer takes a turn as the Elder, or the one who makes decisions for the group, and, together, players work to achieve a scenario's conditions for victory before losing churches or running out of time. (
There are five different scenarios that cover different periods of early church history, each with unique challenges in strategy.)

On any given turn, persecution might square off with faith. Disasters could strike Miracles might occur. As all this happens, players need not know a thing about Christianity nor history to play, yet still get a taste of early Christian history as the game unfolds.

The design and premise of
Commissioned makes the game work equally well for
gamers who simply like well-designed, engaging games and
Christians looking to enjoy games without worrying about content. The fact that the game takes only about an hour to complete makes it a strong choice for introducing friends and family to gaming.
What Did We Think of Commissioned?

My nine-year-old daughter said:
It's fun. It's a tiny bit complicated. I learned it when my brother read the directions and, then, had us watch two videos about how to play it.


The first time we played, it was fun, but we weren't very good at it. Then, the second time we played, my brother wanted to play the competitive way, so he played as a Roman and Mommy and me were the apostles. We lost utterly! Since then, we've played all on one team again. I prefer that way.

I like that the game is of our faith. It's never the same twice and,if you have some extra time, it makes the time go faster, because it's fun. The game takes about a hour.

The game is meant for kids older than I am, but I think it might interest other kids my age. (Maybe. We are strange kids.) I think anyone who doesn't mind a game that takes up a lot of time, likes to role play a little, and likes faith would like this game.
My ten-year-old said:
It's really good. I like playing Peter, because he gives you good cards that are worth lots of faith.





I think it is a game that is good for people who have lots and lots of time and like role playing games. You don't actually role play much, but you get to have a chance to be the elder and that means you have real power over what happens in the game. You also imagine you are trying to spread the faith during the time when may people were persecuting the faithful. It gives you an idea of how hard it was.






I like this game because its Christian and historical. The prayer cards and board look cool. The pictures of the apostles are nicely designed. I like the pieces as well, especially the missionaries. They look like tiny grey people.




I would recommend this game to anyone. It's an awesome great game. It is designed for ages 14+, but I think it is good for 8+. My little brother is only 6. He plays it, but it's hard for him. He needs my help.
My six-year-old said:
It is fun. I like it. I like the pictures of the disciples with the purple and green and stuff. I also like how there are two maps on the board, and also, I like how you can play in different ways, like one person can be Rome and one can be the disciples or you can all be the disciples. I like to play it as all the disciples. I also like the trial card of Mt. Vesuvius - the explosion. That can destroy the shields.







I like how each turn you have to have a bad thing - a trial - happen. There are good things, too. There are miracles. It shows me how the Romans did all the stuff - like the trial cards remind me of the Romans - but we can still win.





We don't get all the candles snuffed. We don't want to get Mt. Vesuvius. We want to get all the Gospels of the Bible.





Everybody but babies would the game.

And since the children have left me little to explain, I will simply say that I love the way this game brings my children (and me, sometimes) together to have fun using our strategy skills and cooperation as we enjoy a game with ties to faith history.

Learn More

Get social with
Chara Games on Facebook and Twitter.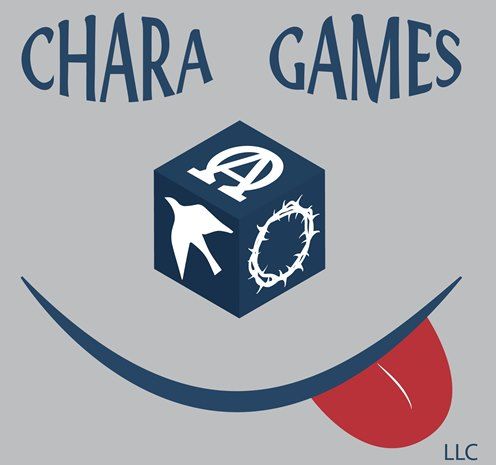 Chara Games also offers a portable card game designed for ages 12 and up called 3 Seeds, which is which my children and I hope to check out in the future.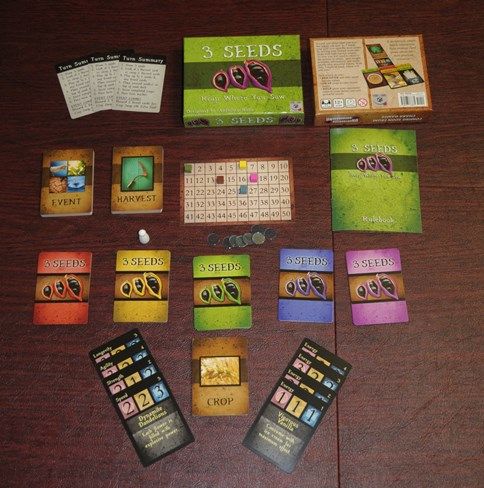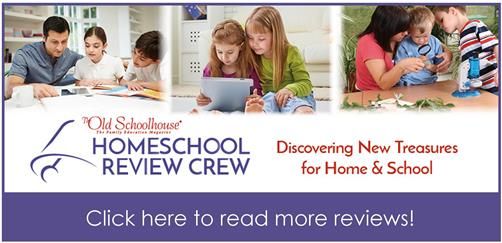 It's refreshing to have a non-electronic game that engages my children and contains Christian themes. We're thrilled with Commissioned and recommend other game-loving families to check it out!