I've been pleased with resources from The Critical Thinking Co.™ in the past, so I was happy to have an opportunity to review their Sentence Diagramming: Beginning, geared for children in grades 3-12+.

Coincidentally, when the opportunity for the review of
Sentence Diagramming: Beginning came up, I had been thinking three things:
We could use some new-to-us lightweight, open-and-go resources to enhance our ELA and math skills while on-the-go between all the classes, clubs, and commitments that take us out each day this late fall.
My oldest is more than ready to begin mastering grammar.
Maybe I should start introducing grammar more consistently during my children and my together time studies.
You've got to love it when what you're thinking and what comes your way coincide so well.

Sentence Diagramming: Beginning Makes Things Simple
I was delighted to discover how simple it is to slip the slim 72-page softcover
Sentence Diagramming: Beginning book into our family's bags when headed out the door and how equally easy it is to open it up and teach my children bite-size lessons using it. The first time we used the book, I simply introduced all my children to simple subjects and main verbs with sentences like "Artists draw." while waiting for the kids' parkour class to begin. In minutes, all three of my children (ages six to ten) were able to grasp what a simple subject and a main verb are and how to diagram a sentence that contains them.

Orally, my children described errors in diagrammed simple sentences from Lesson 1 and, then, took turns diagramming other sentences and creating parkour-related sentences to match pre-drawn diagrams like these in
Sentence Diagramming: Beginning:
In a very brief time, each of my children mastered the first lesson.

One Book - Multiple Children

Later, as our sentence diagramming lessons progressed in the same familiar pattern of a brief explanation, followed by error correction exercises, diagrams to fill in for prewritten sentences, and diagrams to fill in for original sentences, with increasingly complex sentences, of course, my oldest was ready to move at a speedier pace than my youngest. Thus,
I took advantage of the generous reproductions permissions offered by
The Critical Thinking Co.™ , which allow individuals to make copies for one family or classroom, in order to allow my oldest to work at his own pace while keeping our copy of
Sentence Diagramming: Beginning clean for his younger siblings. (I just love it when I can use ONE product with MULTIPLE children at the same time or in subsequent years as needed.)

Before long, it became apparent that my oldest did not need to do every exercise in the book to "get" how to diagram:


Simple Subjects and Main Verbs

Direct Objects

Adjectives

Adverbs Modifying Verbs

Predicate Adjectives

Predicate Nouns

Prepositional Phrases (Adjectival)

Prepositional Phrases (Adverbial)

Compound Subjects

Compound Predicates

Compound Direct Objects

Compound Predicate Adjectives and Nouns

In fact, although my oldest son had never tried nor seen sentence diagrams before we cracked open
Sentence Diagramming: Beginning, we quickly found him ready to begin the review at the end of the 12 lessons of the book. Clear explanations and familiar patterns to exercises helped him meet with fast success which gave him confidence and had him saying the book should be used by everyone.

No kidding. That's what my 10-year-old said. In fact, when I asked him to write a quick paragraph for me with his thoughts for this review, he wrote:

Sentence Diagramming is as easy as pie. I like doing it. I like it because it is so easy. I think it is not important to learn, but it is a good thing anyway. I am good at it. To sum it all up, I think it is good for everyone.



Now, clearly, my boy could use some further help with fresh similes, sentence variety, supporting ideas, and the like when writing paragraphs. However, despite my son's developing writing skills, his feelings about
Sentence Diagramming: Beginning are obvious: The book helped quickly and easily understand sentence diagramming, and he thinks it can help others, too.
I would agree. Going at a slower pace, my daughter and youngest son are also benefiting from the simple explanations and exercises in
Sentence Diagramming: Beginning and I am thankful for the ease of this resource. It has, indeed, proven to be a (literally) lightweight resource we can take with us to advance my oldest's grammar skills at his own pace while working with my younger children together at their own pace, in an open-and-go manner.

Worth Considering

If you've been thinking of giving sentence diagramming a try with your own children and would like a tried-and-true resource for doing so, I would definitely recommend
Sentence Diagramming: Beginning. You can find SAMPLE PAGES online, too, to help you see if the resource will be as good a fit for your homeschooling needs as it has been for mine.
Learn More

Eighty-five Homeschool Review Crew families reviewed one of the following products:

Links to all our reviews can be found by clicking through the banner below.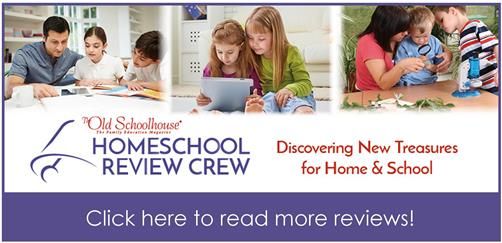 If you have young children, be sure to click on over to read about Reading, Writing, and Arithmetic Before Kindergarten.