When you have children that spend part of their self-directed playtime creating mock elections complete with campaign speeches and debates, you know the time is right to learn more about real-life history and politics. HISTORY Through the Ages Hands-on History Lap-Pak: U.S. Elections by Home School in the Woods has made doing just that so easy!
The U.S. Elections Lap-Pak, which my children and I have been excited to review, offers a complete self-contained study that allows families to break the big topic of elections down into easy-to-understand pieces, coming away with a clearer mental picture of the history and process of U.S. Elections as well as a fun physical reminder for review or show-and-tell.

Who is the U.S. Elections Lap-Pak for?

The
U.S. Elections Lap-Pak is geared for students at a grade 3-8 level, however, in our home, we used it as a family study for my children (ages 5, 8 and 10) and me. For, yes, this mama, who could have cared less about history and politics in her own school years, has come to love both alongside her children, and this lap-pak has had me learning, too!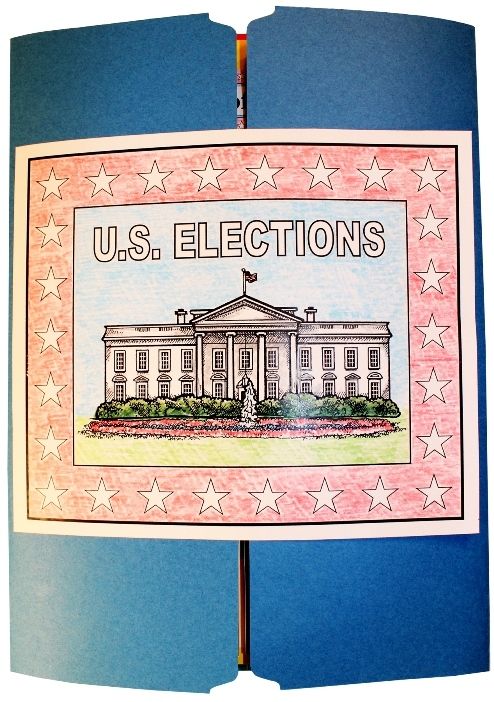 families who

interested in history and politics that are looking for a study they can do together.
older elementary, middle-school, high-school, or even adult students who wish to study on their own about how the American election process developed and how it currently works.
visual learners who like reading and illustrations.
auditory learners that can benefit from approximately 60 minutes of narrated MP3's.
kinesthetic learners who appreciate cutting, pasting, coloring, and lift-the-flap/interactive paper manipulatives.

I would not recommend the product to anyone that likes to open-and-go with absolutely no prep, nor to anyone who does not have access to a printer or the inclination to print many pages. For, unless you just want to learn and enjoy from part of the product - such as the audio files - you will need to do quite a lot of printing, cutting, assembly, etc. (Doing so is well worth it in my opinion! The unit study is quite complete and the end-product makes a fabulous trigger for remembering what you've learned.)
What exactly is the U.S. Elections Lap-Pak and what special supplies, if any, do you need?
In a nutshell, the
U.S. Elections Lap-Pak is a unit-study about the United States presidential elections that will take you briefly through the establishment of the American government and then through a variety of aspects of a presidential campaign and election process. The version I received came as a digital download ($18.95), however the product also comes in a CD version ($19.95).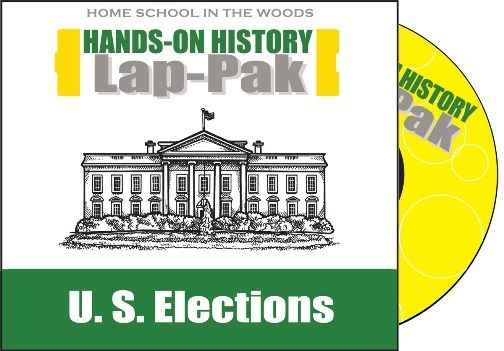 Regardless of which version of the product you get, key information for the unit study is provided through a 24-page booklet and correlating MP3 audios. The booklet can be printed as half-page, double-sided booklet like this: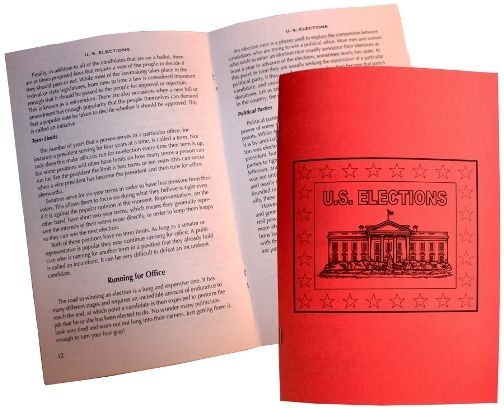 Or, it can be printed as a full-page text.

The text of the booklet is also narrated on the aforementioned MP3 audios. Thus, whether you are a visual learner or an auditory one, key information is equally accessible.

Using only the text/audio provided, you can complete 21 "paper manipulative" activities that result in the creation of a lapbook that looks like this: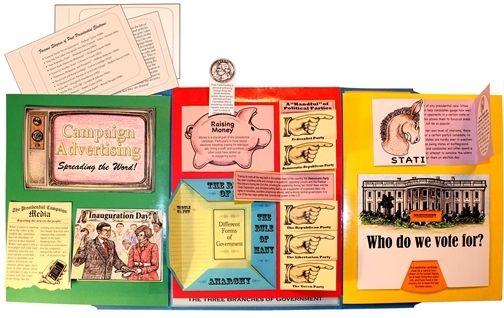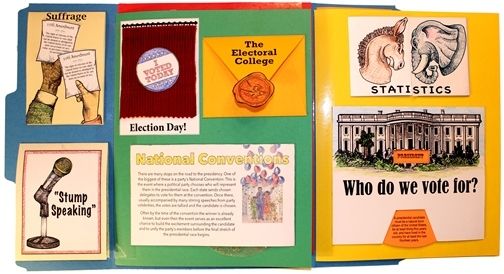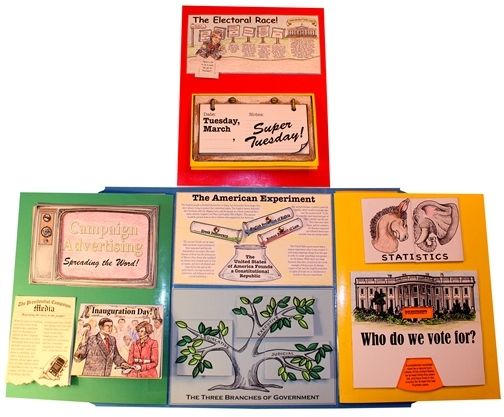 Or, like my family, you can simply attach the fabulously designed and illustrated mini-books to 3-hole punched card stock to make an interactive notebook.
Your lapbook or notebook can then be used as a reminder of your studies.

In creating your mini-books, you will find yourself cutting, gluing, coloring, writing,
researching and more. To access the information for the booklets, you will, of course, need a computer with internet connection. To print the project templates you will also need a printer and lots of ink. Other supplies you will find handy are:

However, do not let the things you may not have at home from this list dissuade you from trying this lap-pak. My children and I have managed just fine without an exacto knife or dedicated cutting surface. Thrifty creative families can easily adapt the projects to accommodate available supplies.

When might you use this lap-pak?



Of course, with the upcoming presidential election, now is a prime time to enjoy
the
U.S. Elections Lap-Pak. However, any time you want to learn about the development and process of U.S. elections could work just as well.

Because the unit is self-contained and broken down into small projects, it can work well as:
a brief 15-30 minute lesson one or two times a week over a full term
an intensive study with one or more brief sections per sitting
Where can you find more information?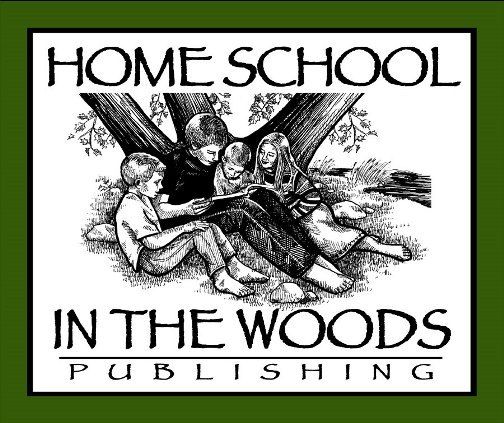 Home School in the Woods offers loads of sample pictures, an audio-sample, and even a scope and sequence on their website.
One hundred Schoolhouse Review Crew families also offer more photos and insights about the
U.S. Elections Lap-Pak.

You can also find Home School in the Woods on social media at:

Why did we choose the U.S. Elections Lap-Pak and how have we liked it?


As I mentioned at the beginning of this review, my kids enjoy playing election and politics during their free time. They have also been involved with support of local candidates in the past, have accompanied my husband and me on prior local and national election days, and have recently taken to watching political debates with me online. Further, we have been studying U.S. history and geography this year. So, the opportunity to review the
U.S. Elections Lap-Pak seemed perfectly timed to my children's interests, our family's study, and our nation's current events.

Upon receiving a link to download our copy of the product, I did so with ease. It came in a rather large zip file which I unzipped and saved onto our family computer. Folders inside the unzipped file contain images, pdfs, MP3's and a start menu that make everything easy-peasy to access, understand, and print.
So, after printing out the booklet and some of the first mini-book templates, the kids and I sat down, and, by their request, listened to the beginning of the MP3. Then, we got to work on the mini-books as we talked about what we'd heard on the MP3.

At first, I was hoping to encourage my children to write through the use of the lapbook, but my gentle push for the to do so began taking away from the fun and learning inherent in the study. So, as we continued on with the study, I opted to have the kids use pre-printed portions from the template as opposed to lined-space ones.
Handwriting and free-writing activities can come from another part of our learning at this time. The kids prefer to listen, chat, color, and assemble with this study, so that is what we've been doing.

On busy weeks, we do but one booklet. On less busy ones we do three, or even four. Always, I tend to do a quick oral review, using the physical mini-books we have made to prompt discussion. Then, we move on to new parts of the study per the kids' eager promptings.

We have also taken a stack of books out of our local library based on the list of recommended resources that comes in the unit material. These books are not necessary to complete the 21 mini-book projects for the lapbook/notebook, but since all of my children and I love read-togethers, and my oldest likes to devour books on his own, we have opted not to knock the gift-horse of well-recommended books in the mouth.

Further, we have extended our
U.S. Elections Lap-Pak studies by viewing related animated song clips that I watched as a child on television and now enjoy with my kids on youtube.


Plus, we have connected our studies to field trips, such as one we went on just this past weekend to a mansion that was once owned by a prominent relatively local family whose members have been connected to a number of presidents and have also served in the House of Representatives and Senate. While we were on a tour of the mansion, it was awesome to witness how our lap-pak studies are helping the kids put pieces of history, politics, and even just vocabulary together. The questions they asked on the tour and the comments they made were spot on. Even the tour guide mentioned to me when I bumped into him after the tour how impressed he was with my children's knowledge and interest. Love that!

So, obviously, I think
HISTORY Through the Ages Hands-on History Lap-Pak: U.S. Elections is a timely, worthwhile way to spend time learning together. My kids seem to as well.
My daughter, eight, has said:
I will begin with what I did not like: the writing. Now, here is what I did like: the coloring, the man speaking, and making little booklets and the tree... Also, I did not know that there were fancy names like "anarchy" with the "rule of one", "rule of many", "rule of few"...

My youngest, at five, had this to say:
I like the drawing and coloring. We are learning about elections.
My oldest, at ten, who had a headache and fever the night I asked him for commentary about the lap-pak as I prepped to write this review said:
I do no like that I am sick so I cannot do it right now. I like that there are things to color in and so much to learn about. I have learned that our government is ruled by three branches, that there are things called justices hat serve for a lifetime, and more. I cannot wait to finish it!
I agree with my son. I look forward to completing the lap-pak together, too. However, I am purposefully taking it slow so as to be sure the kids retain knowledge from each section of the study we explore together before rushing forward and also so we can time parts of the study "perfectly" with how unfolding presidential elections in the news. I just love how
Home School in the Woods

has made it easy to learn history, politics, and current events all at once.


What resources are you using to learn about elections and might the U.S. Elections Lap-Pak direct or enhance your studies? I'd say, "Yes!"