Where do art, tech, convenience, and engagement intersect?
With the
Famous Artists Online Unit Study (Vol. 1)
from
Techie Homeschool Mom
!
If you're looking for a way to mix things up a little this spring or maybe thinking ahead to next year and want to try something new, then
Techie Homeschool Mom
could be your answer!

As we've been experiencing with
the
Famous Artists Online Unit Study (Vol. 1)
, an Online Unit Study by
Techie Homeschool M
om
can be a fun, convenient, and engaging way to breathe no-stress life into your homeschool studies with little prep from you and no investment in books and much extra supplies.

Truly, you just begin to click and learn - as over 8000 other homeschool families around the world are doing - and, until May 4, you can save up to 45% on select courses and bundles that have no "finish by" date with no coupon code required.
Art Lovers Will Enjoy It!
If you've got
children
who enjoy art, then
Famous Artists Online Unit Study (Vol. 1)
will appeal through its focus on different artists and artistic movements and, also, of course, creating your own art.

The artists and movements that the program includes are:
Leonardo Davinci: Renaissance

John James Audubon: Realism

Claude Monet: Impressionism

Paul Cezanne: Post-Impressionism

Georges Seurat: Pointillism

Gustav Klimt: Art Nouveau

Henri Matisse: Fauvism

Wassily Kandinsky: Expressionism

Pablo Picasso: Cubism

Salvador Dali: Surrealism
In learning about each of these, you will, first,
watch a video describing the art movement in which the artist studied. While doing so, you'll be encouraged to take notes in a Google Doc, but, can, of course, take notes on paper or in any way you wish. (The course is self-paced, non-graded, and adaptable!)
Then, you'll listen to an audio file or watch a video about the life of a famous artist from the period of art you've just learned about. While doing this, you'll be asked to choose a handful of facts about the artist's life to add to your notes.

For your next segment of study, you'll look at artwork created by the artist, learning more about specific pieces and leaving comments and.or posting on Instagram or Pinterest if you wish.

Having learned about an art movement and focused on a particular artist and his works, you'll then be asked to create your own unique piece of related art using materials you have at home or can easily obtain and adding an offscreen, hands-on element to an otherwise digital study.

Finally, for the last portion of each segment of the unit study, you will create a slideshow using a free online tool called Emaze. This slideshow will be created completely online (not requiring special software on your computer nor taking up your computer's memory space!) and will help you consolidate and share your learning.
So, as you can see, you'll be immersed in art history, picture study, and creating your own art and presentations when using
the
Famous Artists Online Unit Study (Vol. 1)
A win for those who like art - like my daughter and me.
Techies Will Delight in This Online Unit Study!
If you have children that may not love art, but do like all things techie, then the tech aspect of the
Famous Artists Online Unit Study (Vol. 1)
can draw them in. It will also, of course, appeal to those who like art and techie stuff - like my oldest son.

As an online unit study, the entir
e course - except the actual hands-on art project that you create when studying each paired artist and art movement - is delivered in an
easy-to-use E-course format that requires no additional books nor print resources, leads you to well-curated and safe additional links, and encourages you to use free online tools for notetaking and presentations.
Your studies take place online, using any device you own to access a clean, user-friendly website that clearly lays out what you need to do to learn with the study, wh
ere you are at in it, and what is upcoming.
The study, as I have already mentioned, also guides and encourages you in taking online notes, using tools like Emaze to create online slideshows, and, if desired, suggests you share your work online on Instagram and Pinterest.
My children - especially my 13-year-old son - loved the techie aspect of
Famous Artists Online Unit Study (Vol. 1); I appreciated that the course was so well designed and laid out, with safe information and links; and we all enjoyed learning about some new-to-us online tools like Emaze and having templates already prepared for us by Techie Homeschool Mom so we could be up and running with the new tool in short order.
It's Incredibly Convenient!
If you've been reading this blog regularly lately, you'll know I recently underwent a surgery and had some other challenges converge around the same time. Nothing too dire, mind you, but enough to throw regular routines, life, and learning off and to make me even more appreciative than ever of learning that is low-stress and convenient for my children and I, without requiring too much of me.
Famous Artists Online Unit Study (Vol. 1) is just that - no stress, no squabbles, nothing needed from me but to have the children turn on a device, pick up where they left off, enjoy learning, and, sometimes, gather materials for us to try our hands at some art projects together.
Better still, the course creator "gets" how homeschool life can be and has designed the course and its delivery with some fabulous convenience in mind:
The unit study is written for children in mid-elementary through middle school who can read and navigate the Internet on their own, but can also be used with younger children and developing readers with assistance and, in my opinion, can be used by older students (like me!), too. So, it's a program an entire family can enjoy together.
The course is self-paced, starting when you first log in and ending when you want it, too. There is no pressure to get it all done before a subscription ends, so, when life happens, you can simply pause the study and pick it up again when you have time. Access is unlimited for as long as you like and across all devices you own.
There are

no downloads and no major printing involved

. (For moms like me trying to unbury themselves from landslides of paper, this is huge!)
Modules within the course take 2-3 hours to complete in total, but are delivered in bite-size chunks that can fit into short time frames or done one right after the other when you have more time.

A sidebar with the course contents and progress helps you always pick up where you left off or jump ahead and back as desired.
All the planning is done for you

, so you can truly just log in and go, without having to do anything but gather supplies for the hands-on art projects. No losing time in previewing a ton of online videos, audios, and text trying to rule out twaddle,

inaccuracies, or worse. Just open, click, and learn with a safe, well-designed lessons containing well-curated material.

I just love when a homeschool product delivers quality learning in a clear, convenient way that can flow with the realities of life as it unfolds without causing any extra stress. All learning (and fun!) and no pressure. That's a huge appeal of
the
Famous Artists Online Unit Study (Vol. 1 )
for me.
It Engages Different Ages!
While my children could have easily work on
Famous Artists Online Unit Study (Vol. 1 )
on their own, because I wanted to learn alongside them -and, okay, also because of that real life thing happenings with a portion of our review period finding us down to one device in our home due to a hard drive failure on one computer, a video card failure on another, no smartphone, and a lost charger for a Kindle, I asked them to complete the first two modules mostly with me. As we did so, I found myself as engaged in the content as they were.

The well-curated and embedded videos, audios, graphics, and links reviewed things I already knew about some of the artists and movements, while also adding new facts and concepts in. They also kept me - a person who sometimes prefers book in hand and offscreen learning - interested by switching up how content was delivered - visually, auditorily, etc. - even if all on-screen.

My tech-loving 13-year-old, my not-always-into-online-yet-art-loving 11-year-old, and my chill 8-year-old all stayed engaged with each module portion we did together and enjoyed our lessons.
Kid-Approved!
All of my children liked
Famous Artists Online Unit Study (Vol. 1 )
.
My 8-year-old said:
We used it with my mom or with just us kids together.

We go to the website and read about artists, look at fine art works, take pictures off websites and put them in our gallery, and create art, like a parody on the Mona Lisa.
It's easy to use and my favorite part is making the art. I have studied some of the artists and time periods before, but (the program) still taught me some things. I did not know much about the bird guy John Audubon.
I will keep using the program. I would recommend it to people who like art and online programs.
My 11-year-old said:
I am enjoying it.
One of my favorite part is the slideshows that we make on Emaze. I think it's cool that it is so simple to make them, but they still look professional. They also help us put our knowledge and our own art into the slide show.

I also think it is nice that the program tells you what to put in each part of the slide show. For example, there is the time period, the artist, some of the works the artist did, and then some of your work based off the artist and his works. It makes it more entertaining.



In the program, the woman presents material, has us understand it and create, and then, has us do the slideshow.
Now, wait one minute: I just realized she's like our mom. She uses the same teaching style. Oh no! But she is not my mom, so it's more fun.



I would recommend this to kids around my age, because you can do it by yourself or with your family, which makes it convenient for you and your mom, dad, or whoever is teaching you.
It cracked me up when my daughter recognized my own teaching style - of presenting new information, having kids identify it and dive into it, then having them create their own things using it or teach others about it - in the style of the course. It also made me realize why I like
the
Famous Artists Online Unit Study (Vol. 1)
from
Techie Homeschool Mom
even more.

My 13-year-old said:
Famous Artists Online

is good. You learn about an art period, then an artist in the period. Then, you make related art and create a slideshow.



I like how you get to make the slideshows and I like making the art.



Our family has studied art and history before, so some of the material I already knew about, but I learned things, too. For example, I learned that James John Audubon was not the best at school, but was good at art, hunting, and dancing. I like facts like this, because it makes it easier for me to relate to the artists.



The biggest appeal of this program for me is making the slideshows. I enjoy being better at something than my parents. (My mom is not good at computers! My dad is not that good either.) I also just like doing stuff with computers.
I like that this program is not exactly it's own entire thing, but gives you selected links to other sites and tools to allow you to learn and create. It is convenient and put together well.



I really liked learning how to use Emaze to presenting some of what I learned.
Um, yes, my boy is honest to a fault, calling out my lack of techie prowess. He is also astute to notice how well
Techie Homeschool Mom
curates excellent links and tools to enhance and guide the online study she has written. It truly appeals to my family and just plain works!
Final Thoughts
It's pretty obvious that we went from not knowing
Techie Homeschool Mom
to becoming fans through our review of
Famous Artists Online Unit Study (Vol. 1).
The study is a well-written one for learning about famous artists and movements and for creating your own projects, too. it does not requires only a device that can connect online and some basic art supplies.
It is not overly challenging, yet still packs in plenty of learning and reinforcement - not just about art, but also about history, nature, note taking, report creation, technical tools, etc.
Most importantly to me, it is fun, easy-to-use, and worthwhile.
Plus, you don't need to be a techie whiz to use
Famous Artists Online Unit Study (Vol. 1)
, because
Techie Homeschool Mom
has done all the "heavy lifting" for you, so you can enjoy a lighter load as your
children
learn
independently
or together with you. Without hesitation, I recommend this course!
Learn More
You can follow
Techie Homeschool Mom
on social media on
Facebook
,
Twitter
,
Pinterest
,
YouTube
and
Instagram
.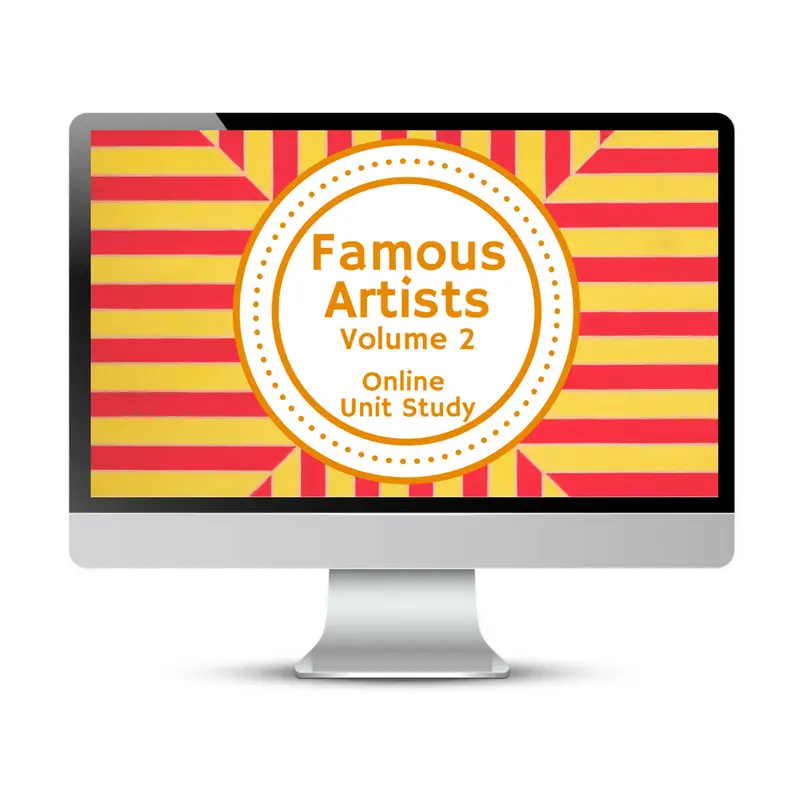 And the best part is that right now, you can

save up to 45% on Online Unit Studies, including the already discounted bundles

. Visit
Techie Homeschool Mom
to see the full selection of online courses for homeschooling and get started with engaging, convenient, and on-point online learning today!