My youngest is ready to learn and practice cursive, and I am ready for some "easy buttons" during lesson times, so a recent chance to review Easy Peasy Cursive by
Channie's Visual Handwriting & Math Workbooks was well-timed for us!
Easy Peasy Cursive does not teach cursive, but it sure makes for easy practice. Basically, it is an 80-page practice pad of cursive letters that is made with quality paper that does not easily tear when marks are erased nor bleed through when highlighters are used on it. More than that though, the writing pages are well-designed with:
angled guidelines to help children develop a proper slant to their handwriting and ideal spacing between letters



a green shade to focus children on lower case letter positioning
white boxes to help children properly place "tall" letters and letters that "dig" or "have tails"
three 5-line pages of practice per capital-lower case letter set (one with dotted lines and numbered directional guidelines, one with dotted lines and no directional guidelines, and one with a sample letter and blank spaces

Additionally, there are two pages of words to practice at the end of the book.

What I like about the design is that:
Children can easily open-and-go to practice different cursive letters. Seriously, I taught my son the basic stroke for a, c, d, g, o, and q. Then, asked him to pick pages for one of those letters and to work on them for five minutes a day, concentrating on making beautiful letters, not on finishing a line or page. Then, when he wanted to try a different type of stoke, I suggested e, l, h k, b, f, or j. He happily proceeded each day to set a timer, practice some letters, and be done -easy peasy.
The green shade works and doesn't require me to highlight or print anything! Of all my children, my youngest is the one who struggles with letter size the most. Thus, when I am "on my game", I take the time to use a highlighter on the bottom halves of the spaces between lines on writing paper or go online to print highlighted paper. The problem is, I am not on my game much these days, and he still needs a "lower case" guideline. So, I love that this cursive practice book as one built in. It is helpful to me in that I do not need to print special paper nor remember to highlight anything. It's helpful to him, because he is getting better and better at letter placement.

The double slant is simple-yet genius. I used to teach in schools and have been a tutor as well. Thus, I have tried countless strategies to get children to understand how not to cram their letters together or stretch them out so far apart that writing becomes difficult to read. The double slants lines in this practice book are a perfect solution! My son is learning correct spacing between letters without even thinking much about it.
There is enough space for "diggers" (or "tails"). So often, young writers get frustrated when "digger" letters, like f, j, and p, have "tails" that go into the next line and make it hard for their "tall" letters to fit on the next line. These practice pages give plenty of purposefully designed space to avoid this frustration.






Children become increasingly independent. The 3-pages per letter begin with the "hand hold" of dotted lines and numbered directional cues and progress to just shaded blank spaces, so children can move fairly quickly from "following the dotted line" to confidently writing cursive letters on their own.
Capital letters are used. So many cursive practice books I find either do not include capital letters or give them only a cursory treatment on a final page or two. I appreciate that this workbook give ample opportunity for children to practice these sometimes tricky letters and shows which ones "stand alone" and which ones can be connected to lower case letters that follow.

To be 100% honest, there were a few things I did not care for with this practice book, however.

One was the font. I am fairly old-school with the cursive font style I prefer, so I found myself telling my son to ignore or adapt some of the dotted line pages and to use the blank space pages to write some letters a different way.

Another was the darkness of the dotted lines. My son found that going over them in pencil barely showed, so we ended up moving to highlighters for the dotted letter practice and pencil or highlighter for the independent practice. Perhaps lightening the dots to shade of gray would be helpful in future printings of this workbook.

Further, I found that some of the red directional arrows in the book were a bit confusing for my son to follow. For example, on the lower case e, the line (and odd shape of the lower case) seemed to be guiding him to make the top of the e first . In future editions of the practice book, then, I'd love to see improved directional arrows or, perhaps, a graduated example of how to write a letter. For example, an example of just the up swoop of the lower case e. Then that portion of the letter with the back curve added on. Then, the finished letter with scoop forward. However, I suppose that would make the book more of a teaching workbook than a practice one, so perhaps I am asking for a partner product to be designed.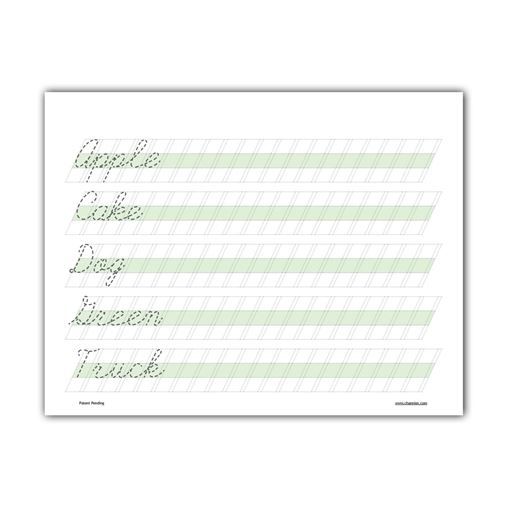 Finally, I did not like that there was little built-in opportunity to practice words and that those words that were included in he workbook had capitals at their beginnings when they were not proper nouns. In my opinion, children who are ready for cursive want to quickly unlock its "secret code" to read and write words, so why not have a practice book give them the satisfaction of doing that sooner rather than later?

Cursive letters cab be taught in groups that follow similar stroke patterns and small words can be made after only a handful of letters are taught. For example, if the letters
a, c, d, g, o, and q
are taught first, a child can easily begin to read and write, "dog", "do", "cad", "go", and "cog". I would love to see future editions of this cursive practice book reorder the order letters are taught in and include more word, or even sentence practice then.

All this said, I obviously have some wishes for future editions of
Easy Peasy Cursive or additional products
Channie's Visual Handwriting & Math Workbooks
might design, but I also appreciate our practice book at hand. With a few personal adaptations,
Easy Peasy Cursive is most definitely serving its purpose here of giving my youngest son an "easy button" for practicing cursive. After one or two model reminders from me about how to write a letter, my son could sit down to independent practice.

My favorite part of this book was definitely the smart design of the shaded area for lowercase letter placement and the double diagonals or slant and letter spacing. Thus, I was delighted to see that
Channie's Visual Handwriting & Math Workbooks

sells blank writing pads like this! These, I believe, would be super helpful to any child perfecting their cursive!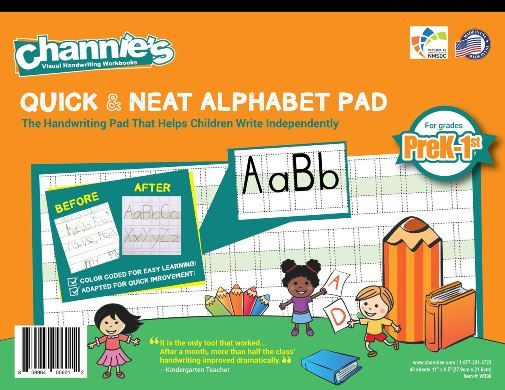 They have one for printing, too.



Learn More
Channie's Visual Handwriting & Math Workbooks
offers free shipping on all US domestic orders.
You can connect with Channie's Visual Handwriting & Math Workbooks on their Website and Facebook.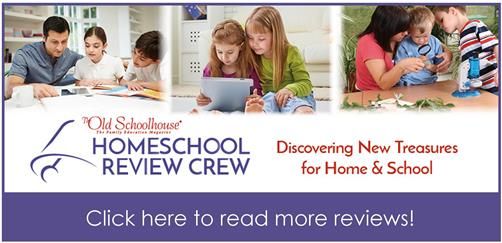 Sixty Homeschool Review Crew families each reviewed one helpful product from
Channie's Visual Handwriting & Math Workbooks.
Click through the banner, then, to read more about the following products: