Ahhhhh. In my ideal little plan for the day, I was meant to be relaxing and writing this review of
Homeschool Rescue by Heather Aliano from Only Passionate Curiosity while my children read or prayed themselves to sleep and I had some quiet time after a fulfilling homeschool day. Instead, even though our day was a positive one, I have barely been able to collect my thoughts for this review while dealing with disciplining, consoling, and parenting children to bed.

Yep. Tonight is proving to be "one of those nights" when my children's choices are less than best, and, therefore, I have to adapt.
Where I Was When I Started Homeschool Rescue?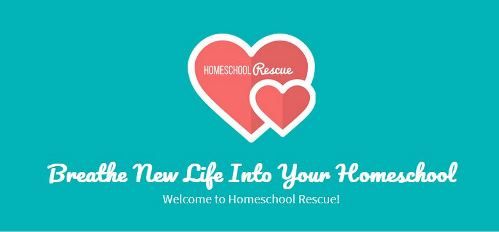 It was during a series of draining days (like this night is proving to be!) that I decided I could use the opportunity to breathe new life into my homeschool with Heather's e-course. For, even though I often say I would not change my husband and my decision to homeschool for anything, I just as often realize that I need to change - or at least tweak, refresh or reset - our approach to homeschooling regularly if my family is to come anywhere close to our goal of training truly happy hearts. For, without question, starting our homeschool journey was a lot easier than living it day to day has been and - wow! - sometimes it certainly does take EFFORT to maintain even a modicum of happiness

So many things can step into to set homeschoolers off course, right? In the past four or five months for my family, such things have included my mother-in-law's passing, a surgery for my husband, the necessity of another impending surgery for one of our children, bouts of sickness, car trouble, over-scheduling, pre-teen hormones and more. Oh, plus the "usual" of life with beautiful, creative, active children that also challenge me daily with their unique learning and thinking differences... You know - just life as it rolls, and life as it sometimes rolls right over you and leaves you feeling so battered and bruised that you forget what a blessing it all is and start letting doubt, distress, stress, and burnout get the best of you, instead of embracing the trust, gratitude, and grace that is really yours to carry on with.

So, anyway, that's where I was when I decided it was time to hit the reset button by taking advantage of Heather's 60-day
e-course that promises practical lessons - and oodles of encouragement - to get homeschooling back on track!
What Has the "Rescue" Been Like?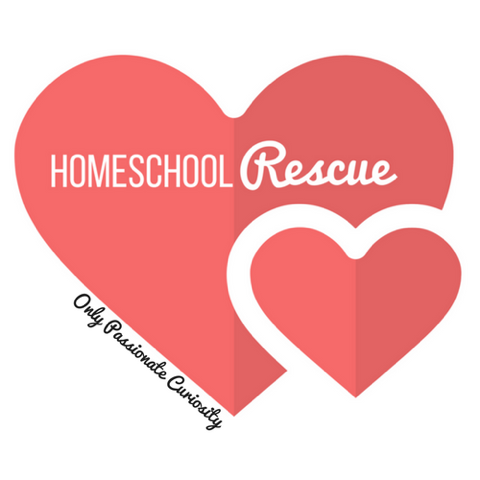 As soon as I started the e-course, I appreciated it. The website the e-course is delivered from is clear, clean, organized and easy to navigate. Heather's approach is one of encouragement, yet challenge. She is a homeschool mama who has been in the trenches, too, so she understands just how discouraged one can be and just how necessary it is to both BREATHE and WORK to make things better. Sometimes, you let go. Sometimes you dig in. Always, you take an honest look at yourself, your kids, and your homeschool and confront challenges while embracing grace - and, if you need to, you pause to get professional help if circumstances demand.

Heather also gets that time is often one of the biggest hurdles or homeschoolers, so, although she has organized the e-course to be completed in 60 days, she understands that it may take some mamas longer. Thus, while she encourages all to make time to watch, learn, reflect, and implement ideas from each of the courses five modules in order to effect positive and lasting change, she lets you know it is okay to go at your own pace - pausing to get a handle on some of the module's suggestions and work at times, or putting some work aside to move on with other portions of the course, before circling back around.

For me, the need to do both these things came up early on in the course.

During Module 1, I was asked to do some homework with my husband which, well, was not well-timed. I tried to complete the exercises together, but it was leading to more stress than "rescue" help to do so.

I ended up mentioning this on the Facebook Community and immediately got feedback from other moms - including Heather - offering support and encouragement, plus a "pass" to tweak the "work" of the assignment to a way that worked for my then-present situation.

A bit further along in the course, the whole organizing your home thing brought me to a stand still. For, my home has been rather a large stumbling block for me and mine for quite some time. I am making minute progress with it, but if I paused to really declutter it all, well, there'd be no time to homeschool. In response to someone's Facebook pot about delcuttering, I mentioned how the decluttering part o the course had me a bit "stuck" and Heather responded:

"

Don't get stuck in the rabbit hole!

)

If it's not something you want/can tackle right now, make a note to do it later and move on. Is it possible to "outsource" some of the decluttering to any of your kids? Can you assign a small portion of the work to do to them each week? (clean a drawer, organize a shelf ... that sort of thing?)"
Our conversation progressed some from there and left me thinking about how I could continue small progress with the clutter and get moving on the course again. I appreciated at this point - and others - how the e-course and Facebook community, when paired together offer more than any book or static course could on its own.

You get all the benefit of having prerecorded video and audio, downloadable/printable transcripts, exercises, and extras and an interactive forum to ask questions, get personalized suggestions,a and, okay, just vent a little. That all makes
Homeschool Rescue aces for me. Access anytime. Multi-modal offerings (audio, video, online print and paper printables). Opportunities to work through things on your own or with the support and input of others, including the course's creator. That just works!!

What also works is that change happens even before the course is completed - or so it is happening for me.

I actually had my oldest fill out one of the homework assignments meant for my husband and me, and have been using that to help us communicate and plan our summer learning experiences forward.


Another assignment made me realize that both my husband and I weigh practical life skills over many other typical "by the tie my child graduates" skills and knowledge. This translated, for me, into a new approach to - of all things - grocery shopping with my children. Just this past week, I had my longest, but most peaceful grocery shopping experience with them in ages. Not a single one of them bickered or begged for items in the store as they all had portions of our grocery budget to plan and purchase items of their choice for meals and snacks they'd be responsible for this week and - woah - my oldest (who is the hardest one to get to bed and the latest riser) asked me to wake him at 7:30 tomorrow so he can make his breakfast before our day's commitments start.

This personal-to-our-family-fruit came from seeds planted by reflections from the e-course. Your fruit, no doubt, will be different should you take the course, but, undoubtedly, there will be fruit!



Who Would I Recommend This E-Course to?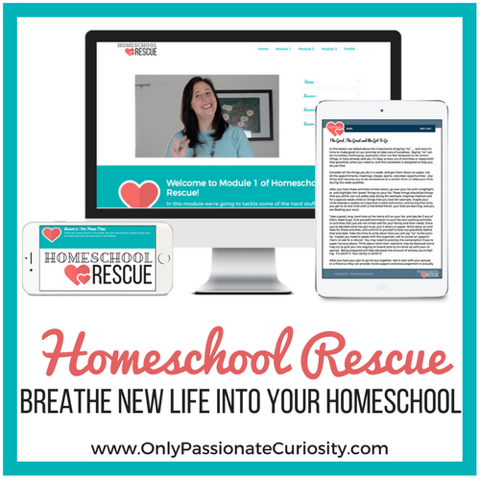 If you've been homeschooling a year, a decade, or more, and seek a structured approach that will guide you though taking an honest, introspective look at your homeschooling in order to make lasting changes to improve it, I daresay the
Homeschool Rescue e-course has something for you. Between the five modules that are currently offered in the course, almost every aspect of homeschooling - and how to go about refreshing your experience with it - is touched upon.
The e-course will get you reflecting on how best to troubleshoot your homeschool and set your children up for success. It will offer you tools for time management and organization. You'll find practical ideas for planning and implementing curriculum for children of all ages, including older students. And, most importantly, you will be encouraged to let go of guilt, seek balance, and allow GRACE to enter into your homeschool efforts.

Sure, you may find some points where you become uncomfortable as you take an honest look at where you're at and why, and you might even struggle through some steps towards improvement. You might also find that Heather's structured approach, say to curriculum planning, does not 100% mesh with your own style (as is the case for me), but you will also likely realize that some areas of your homeschool are not in need of as much of a reset as you might have thought and that the parts that are in need can be dealt with one step at a time as you put into practice what the course presents.

If my experience with
Homeschool Rescue is anything to go by, you
will find community as you reflect and (re)gain confidence, making positive progress towards a more organized, purposeful homeschool.



"Remind Me Again, What's Involved. I'm a Busy, Burnt-Out Mama"



Homeschool Rescue is and e-course delivered in 5 modules that contain 20+ short video segments in total. There are audio options or the segments, too, as well as easy-to-download transcripts in case you rpefer to read or review ideas in print.

Each module also includes helpful printable "homework" exercises and reflections and resource links. (Mind you, when I say "homework" it is not the kind of homework that makes you sweat and groan. It's the kind that makes you think, reflect, and create action plans.) Plus, there is ongoing support from other homeschool parents in a private Facebook community, and there is bonus content - like Mom Planners, a Homeschool Student Accountability Pack, and a Teen Academic Planner - that is added to regularly.

This means that no matter what kind of week you're having, you can access and benefit from one aspect of the e-course or another - a video playing when you do chores, a printable tucked into your go-bag to take out while you wait for an appointment, a quick plea for help or understanding in the Facebook group... I speak from experience, the multi-modal way the e-course is delivered makes it work under multiple circumstances.

Oh, and one of the best parts, as I mentioned earlier, is that Heather gets how intentions and reality don't always match up. So, even though the course is designed to be a 60 day one, she offers lifetime access to its 20 +video lessons and encourages those who need to (like me!) to just breathe and take the course at a pace that works with real life!
Learn More
There are currently two options for taking advantage of what Homeschool Rescue has to offer. With both, as soon as you purchase, you'll receive an email in your inbox within an hour with login information. Then, using the information, you'll easily be able to get instant-access to course materials so you can begin working through the course on your own, with the next "live" course beginning June 1.
Get social at:

One hundred Homeschool Review Crew moms have been blessed by Heather's
Homeschool Rescue course. You can read about each of our experiences by clicking through the banner below.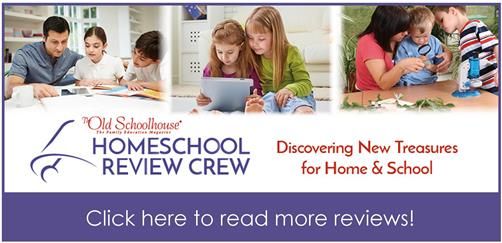 Now, it's time for me to honor part of the advice of the course: Get some sleep! And you? If you need to breathe some new life into your homeschool, this homeschool parent resource might be just what you're looking for.