When we were given an opportunity to review The Magic Stories by Allsaid & Dunn, LLC, publishers of The Reading Game and authors of the Wordly Wise series, I was excited, since I knew I could use it with both my struggling reader and my right-age one.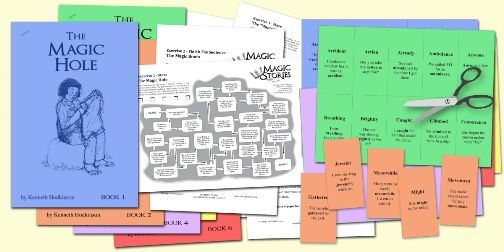 The Magic Stories
is a supplemental reading program designed to help children at a 2nd/3rd grade reading level develop strong reading, comprehension, and writing skills while enjoying tales that contain morals. As I understand, the program was specifically written as a follow up for children who have used The Reading Game, however, I can say from experience that familiarity with The Reading Game is not a prerequisite for using
The Magic Stories. (We've never seen the Reading Game before here.)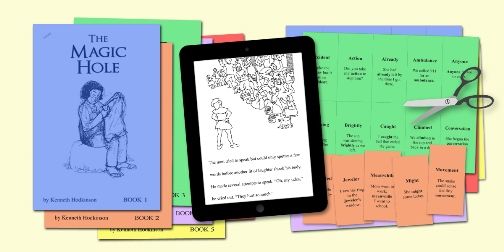 What Is Magic Stories?
The Magic Stories, as I mentioned above, is a supplemental reading program that contains stories and exercises. It comes as a pdf download which is
optimized for an IPAD or computer screen so that those who do not wish to use up supplies printing each of the program's six 20-or-so page stories can simply read them on-screen. I chose, however, to print some of the stories in booklet form since my struggling reader prefers books-in-hand over a screen-in-hand. Because the pdf pages include plenty of white space and a good-sized font, this worked well for us.

You may be wondering what is so "magic" about Magic Stories. Literally, each of the stories contains an element of magic in its plot.
The Magic Hole features Ping Ho and his family, who are very poor and are stymied by a magic hole that keeps appearing in their lives and reeking havoc. They lose rice, money, and even an entire fishing lake due to the hole, but, in the end, are able to take a bad situation and make it better than they could have ever imagined.
The Magic Ax tells the tale of a young boy prefers to play in the forest than to help his father chop wood, untl one day, his father breaks his leg, and the boy has no choice but to chop wood for his family. On his first day doing so, the boy makes meager efforts, dawdling and not even filling the bottom of a cart. Then, however, he is met with a magic ax that does all his work for him. Though he feels guilty for taking the credit for the magic ax's work he continues doing so for quite some time. Then, the ax fails him, and he knows he has to step up to work for his family. Before long, his work becomes easier as he is no longer burdened by the heavy secret he'd been keeping.
The Magic Joke has a princess who ends a war with a Magic Joke. Her father, though, isn't happy about this since he wanted to win the war and take over the enemy kingdom. He ends up reading the magic joke, however, and being so overcome with laughter that his daughter is able to take over ruling their country, and, in turn, uniting the once-warring kingdoms with love instead of violence.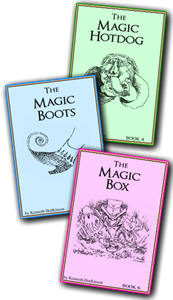 The Magic Hot Dog is about a boy named Alfred only wants to eat hot dogs. In fact, he ends up spending all his money at a fair on 10 hot dogs, and,

then, sees a man eating a hot dog that never seems to get any smaller. Of course, Alfred wants that hot dog and, indeed, takes it. Too bad for him, though - he eats so much he ends up floating away.
The Magic Boots is about a young girl named Patty who wants a pair of Pixy Boots that she has seen in her book, but, instead, ends up with Goblin Boots. Poor her! Those boots cause so much trouble. Luckily, though, in he end, things go right.
The Magic Box is a Rum-pel-tilt-skin which is written partly in rhyming verse in partly in paragraph form. In it,

Rum-pel-tilt-skin tricks people into handing over gold to get "magic" straw from a "magic" box. However, in the end,

Rum-pel-tilt-skin's trickery is revealed and he end up meeting his demise in a tantrum.

More figuratively, Magic Stories aim to make literacy skills "magically" unfold in children by engaging them in stories and activities that help them practice pre-existing
phonemic awareness and phonics, while developing fluency, vocabulary, and comprehension skills.
Included in the activities accompanying each story are:
Naughty 40 Flashcards and Assessment: Each story contains 40 new "naughty words" - words that are not easily

decoded using basic phonics. These words come in easy-to-print flashcards that you simply cut and play with. They also contain the target words in sentences to aid in vocabulary comprehension/context in reading. Pre- and post- reading assessments for thee words are also included.
A Comprehensions Maze: These clever True or False quizzes for each story are designed as mazes to keep children engaged.
A Finish the Sentence Sheet: This simple worksheet encourages students to summarize and write in their own words, building comprehension and writing skills.
A Finish The Story Prompt: Imaginative children will enjoy exercising their creativity to write their own stories inspired by the ones they have just read.
Additionally, there are running record sheets provided free on the Magic Stories website and a brief Parent/Teacher guide for those that like to borrow ideas for structuring lessons.
The only thing "missing" is an answer key for those who don't want to read the stories and figure out the correct answers for the activities themselves, but, truly, these are not necessary since the stories and exercises are quite simple. (Simple but effective.)

Our Experience and Thoughts



My struggling reader was the one I was most excited to use
The Magic Stories with, since I thought doing so would help her build skills at a level she could handle. I also knew my second grader could benefit from the program since he is at the "right" age (and skill level) for it.


As things turned out, the "Naughty Words" were a bit too naughty for my struggling reader at first - as were a few of the meant-to-be-decodable words in the stories, and the writing portions of the program did not thrill my second grader. That doesn't mean, however, that
The Magic Stories were not fruitful for us. In fact, I liked that I could pick and choose how to use the program to meet each child where she or he is at.

For my older child, this meant slowing way down to include plenty of repetition through games with the "Naughty Words" in conjunction with "tag reading" some of the stories. We still haven't finished all of the stories with her, and, since our primary goal is reading right now, I have not been doing the writing exercise with her. Since she enjoys storytelling, though, I do plan to cycle around to read some of the stories again with her as a review before having her enjoy the included story writing activities.

With my second grader, this meant just letting him read and enjoy the stories, while also inviting him to play word card games with his sister and me. This kept him focused on the fun of the stories and vocabulary, without worrying about writing, which we do in other ways. He said:
"I liked it. The Magic Hole was good. It was appearing everywhere and was funny! I like the stories."

My struggling reader said:
"I liked how easy the stories were to read and that they were entertaining. Before we read the stories, we practiced the hard words first with cards. I could not read some of the cards, so we played games with them until I could. Then, my brother, my mom, and I tag-read the stories. There were still some words I didn't know, but I liked the story. I also like that there was a lot of white space and illustrations. We decided to save the worksheets."
I surprised and pleased me that she considered the stories easy to read, because, on all honesty, she has not been breezing through them. More important, though, than her pace with the stories is her confidence. Obviously, if she says the stories were "easy", she is gaining confidence. Awesome!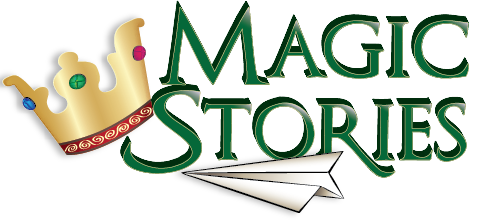 If you'd like to learn more about Magic Stories or connect with them, find them at:

You can also see how 55 Review Crew families liked Magic Stories by clicking through the banner below.