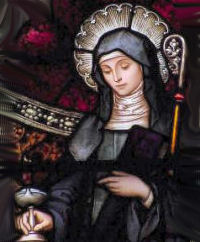 Luke asked me what we will be doing tomorrow to celebrate St. Brigid's Feast Day, and, I had to honestly answer: not much.
After a night of having the belly bug run through our entire family, the idea of cooking up
special St. Brigid Day foods
as we did in the past is enough to send me diving for the toilet bowl again. (sorry for the graphic. It was truly a rough night.) Now, this is not to say the feast day foods we made before aren't great ones. It is just our stomachs just need time to settle more.
Additionally, we won't be home for the feast day, and I forgot to pre-order our
Brigid's Cloak
from the library. So, our traditional read-aloud is out, too. No special tea, read-aloud or liturgical table, then.... Hmmm. What
can
we include as an observance tomorrow?
The way I see it, we choose one to three simple, yet meaningful ideas to celebrate the day. These ideas can be chosen, of course, based on how we are all feeling and where the children's hearts and interests lead us. A quick selection of thoughts on choices might be:
Dramatic Play:
Nana just gave Nina a cute little red-headed dollie, so maybe we could do some
dramatic play as we did when making our St. Brigid Liturgical Table
a couple year's back.
Drawing and Coloring:
We don't have access to a working printer right now, but we could model some drawings off of the wonderful
St. Brigid coloring printable
someone sent me a direct link to online. (If anyone knows the blog it originated on, please share so I can give credit where credit is due.)
Prayer:
We could offer the House Blessing that I stumbled upon at
The Daily Weaving
a couple years ago.
Nature:
We could go on a nature walk to chat with and feed the animals based on the idea that "St. Brigid loved to wander the woods befriending the animals" (as per
Saint Brigid Catholic Church's website
.
Charity:
We could think of something to offer others as St, Brigid "was renowned for her generosity, giving much of her father's wealth away to the poor",
Crafts and Handiwork:
If we feel well enough to be in the car and in a store, I could go get some pipe cleaners and follow Lacy from Catholic Icing's tutorial for making
St. Brigid Crosses
.
Poetry:
We could read The Giveaway (below) and see what conversation and activities it inspires.
Saint Brigid was
A problem child.
Although a lass
Demure and mild,
And one who strove
To please her dad,
Saint Brigid drove
The family mad.
For here's the fault in Brigid lay:
She WOULD give everything away.
To any soul
Whose luck was out
She'd give her bowl
Of stirabout;
She'd give her shawl,
Divide her purse
With one or all.
And what was worse,
When she ran out of things to give
She'd borrow from a relative.
Her father's gold,
Her grandsire's dinner,
She'd hand to cold
and hungry sinner;
Give wine, give meat,
No matter whose;
Take from her feet
The very shoes,
And when her shoes had gone to others,
Fetch forth her sister's and her mother's.
She could not quit.
She had to share;
Gave bit by bit
The silverware,
The barnyard geese,
The parlor rug,
Her little
niece's christening mug,
Even her bed to those in want,
And then the mattress of her aunt.
An easy touch
For poor and lowly,
She gave so much
And grew so holy
That when she died
Of years and fame,
The countryside
Put on her name,
And still the Isles of Erin fidget
With generous girls named Bride or Brigid.
Well, one must love her.
Nonetheless,
In thinking of her
Givingness,
There's no denial
She must have been
A sort of trial
Unto her kin.
The moral, too, seems rather quaint.
WHO had the patience of a saint,
From evidence presented here?
Saint Brigid? Or her near and dear?

Whatever we do, we will surely remember this child-friendly saint who not only represents a part of our family heritage (as I am 50% Irish), but also is a strong model of loving habits and compassionate character.
I'd love to hear what you will be doing to honor the day - and also to have you elave comments with links, book titles, recipes and other resources for future St. Brigid Feast Day fun. Thank you!