If you have a "late bloomer" and are looking for a gentle, old-fashioned, language arts curriculum with a Christian flair, then Eclectic Foundations Language Arts Level B would be worth a peak.

Although I cannot say my daughter loves the program, she likes it enough not complain when using it, and she is making progress with skills as we work through it. Plus, I am delighted with how easy it is to use and how flexible the time we use it in a sitting can be!

On days when my children have parkour, I pop the curriculum materials into a bag with a pencil and highlighter and my daughter and I simple "open-and-go" with them (skipping word card work if it comes up) for 15-30 minutes. On days we are at home, we work from 10-40 minutes on all parts of the program, depending on what else we have going on. On days when I have to focus on my oldest during skill time, I sometimes ask my daughter and her little brother to play "the spelling game" or the "reading game" using the word cards from the curriculum that my daughter has cut and colored already.

To play the game -which is not in the curriculum - but which is easy to do with the provided cards, my children lay the cards out face down in a "game path". Then, one rolls a die and moves to a card. If playing the spelling game, the person who lands on a card hands it to the other person and the other person read it. he person who landed on the card then tries to spell the word and, if successful stays on the card's space. If not, the player returns to his or her prior space. When playing the reading game, the person who lands on the card simply turns it over and reads it and, then, tries to make a question, statement, or command using it."

The ability to close a lesson shortly after a timer goes off or when another child or activity needs my attention, as well as pick lessons up within seconds with no prep at all is this curriculum's biggest boon to me right now. The fact that it gently moves my daughter through reading, handwriting, comprehension, poetry, grammar, and other typical ELA skills is a win, too!

What Do You Get and What Does It Cover?


Upon opening our
Language Arts Level B
package, I found:

a soft-cover

Teacher's Guide

which is spiral bound and lays flat. It begins with two pages of simple, clear instructions and an overview and then gets right into super easy to follow, concise lessons plans for 144 lessons, with one page per lesson plan, which is divided into McGuffy Reader work, Phonics, Handwriting, Poetry, and Grammar.
a thicker, softcover, spiral-bound, Student Workbook which contains 144 lesson's worth of lined handwriting and phonics word list pages, large-font poetry text, and simple grammar exercises.
a thin, softcover, spiral-bound, laminated set of Phonics Practice Sheets.
a set of cardstock word cards for children to color in according to the part of speech for each word.
a spiral-bound printout McGuffey's First Eclectic Reader, which is not typically provided since the reader can be found digitally online at no cost.

Together, these items make up a complete ELA program for those who are a bit beyond decoding C-V-C words, not too far into grammar, and ready to move ahead.

Lessons are meant to be completed 3-4 days a week over 36 weeks and require nothing more than the program materials above, plus:
index cards for one lesson

additional 3/8' ruled handwriting paper for extra practice if desired

a pencil box, baggies, and/or elastics for word cards

crayons, markers, or colored pencils for word cards

thin dry-eraase markers and a rag

a pencil

scissors

My daughter and I also added the use of a highlighter (to highlight parts of poems as opposed to pencil circling them), dice and "guys" (to play games with the word cards), and a small whiteboard, because she prefers writing on whiteboards to paper sometimes.

My Daughter's Thoughts... and Mine

When I asked my daughter what she thought about
Eclectic Foundations Language Arts Level B, she said, "I like the cover. I don't know why. I just like it."

Odd. I had not even thought about the cover design. But, hey, if she likes it, that's a good thing, right?

Then, I asked her about the curriculum itself and she said, "I like that we can do it in small amounts of time, but I think it's boring."

Well, that may not seem like a glowing opinion, but, for her, it is! My nine-year-old struggles so with English Language Arts and so anything that can be done in small amounts of time is GREAT for her... and for me. Short, regular practice is proving to be what keeps her moving forward lately while keeping us both sane. She has not had a single tear or outburst during ELA 1:1's with me since using
Eclectic Foundations (which is something!) and I have been able to rest in the comfort of knowing we are getting somewhere , gently and slowly, but steadily.

As for my daughter's "boring" comment, that is not the fault of the curriculum. It is a combination of two things. First, my daughter's comprehension and listening level is much higher than her decoding one, so she now tires of "young" level readings such as those in the McGuffey Eclectic Reader (even if she needs such a level so her reading may bloom at last, I pray!) And, second, as we have many projects, outside classes and club activities lately, we are in a more "get-it-done" mode with reading, writing, and math. Skill work basically becomes Mom setting a timer to keep us on focused and giving a bit of time to basic studies and, then, having us use an "open-and-go", whatever-speed-the-day-can-muster ahead effort to move along.

My daughter also went on to say, "I like that you can write on the Phonics Practice Sheets and erase them, but I don't use them very much." That is true. We have used them a little, but not much simply because we have been in that "get-it-done" mode for our skill work lately and I have her doing other things for independent work.

Referring to the Eclectic Reader work and lessons, my daughter said, "I like the pictures in the book, but I don't like how in certain lessons you go back. It's confusing and crazy. I just want to go forward, not backward and forward and backward and forward."

My daughter actually had not told me this until I interviewed her for this review and, silly me, did not pick up her feelings earlier. So, after she made his comment, we chatted. I explained that the "going back" is meant to offer built-in review in the lessons, but my daughter asked if we can just use the reader moving forward without going back now that our review period is over. I told her I'd be happy to adapt the lessons in that way for her. (I think she wants to prove she can read the whole thing and does not need the "full lessons" to do so, so I will give her a chance to prove herself.)

I, then, asked my daughter about the student book, whereupon she said, "I like the cursive and the poems in the student workbook. It is easy to find the rhymes and it's easy to read (with Mom's help) because you know there are rhymes. I also like the pictures and that the pages are not too busy."

The fact that the font is a good size and the pages are not too busy is HUGE for my daughter's success. She struggles with small font and busy pages and needs plenty of white space when decoding things. However, she likes illustrations, too. So, the student workbook works well for her. The only thing she (and I!) might like to see is a few more line drawing to help keep that whole "boring" thing at bay for kids like mine who want a little more visual interest, but need white space, too.

She also added, "I don't like the word lists, because they are hard. So, we stopped using them and went to lessons from the book that the lists are based off." This is true. Even though we have gone over silent e words before, my daughter till struggles with them and felt discouraged right away with the word lists, so by the time we got to Lesson 14 or so, she'd asked if she could use simpler words instead. Since the word lists are based on Word Mastery by Florence Akin, which is free online and which we have a print out of already (which, oddly, my daughter and I had had a failed foray with a few years ago), I said, "of course" and pulled out my Word Mastery binder. Lo and behold, my daughter happily (and confidently wet through the first few pages of it, so we have been using that now instead of the Phonics section of the lesson plans and student book.

We have also been using the provided word cards for reading, spelling, and grammar pratice. My daughter said, "I like coloring the word cards... I play games with them... They are extremely easy to read, which gives me confidence..." Hoorah!

She did not have anything to add about the grammar lessons, but I do, I love them! So simple and gentle. No need for extra books or drill and kill exercises. The grammar portions of the program have been a great reminder to me of how natural grammar lessons can be for developing readers. Thank you, Elizabeth Ratliff, for making them so easy and effective.
Will We Continue to Use the Program and Would We Recommend It?

As I already mentioned, my daughter has set a goal of reading through the Eclectic Reader "without going backwards" during our upcoming 1:1 times, so I will honor that goal with her (and gently get in some of the McGuffey's lessons as written by browsing the Teacher's Guide and bringing up talking points, etc. when I can. (The concise lesson plans will make this easy to do!)

Also, as I already mentioned, I will be skipping all Phonics lesson plans for now because we have opted to level down for Phonics, starting at the beginning of Word Mastery. However, should my daughter "catch up" to the place the
Eclectic Foundations Language Arts Level B Phonics lessons begin soon, I will likely move back to these lessons, which are apportioned in far friendlier (i.e. briefer) word lists than Word Mastery. Likewise, we may use the Phonics Practice Sheets more once we get "on level" again.

Because my daughter wants to improve her cursive, we will continue to use the basic Handwriting/Copywork portions of the Student Workbook.

I will also continue on with the Poetry at least once every week or two since my daughter enjoys it and the selection of poems is lovely.

The Grammar sections, which I love, will be slid into our lesson times, too. In fact, I am thinking of using them as a guide for 1:1's with all my children. Because their gentle approach is so do-able, I am fairly certain I can transfer the points made to whatever each of my children is reading/studying.

In short, now that our review period is over, I will be using most of the portions of this well-written curriculum and continue to relish it's open-and-go style. I am happy to have things laid out so concisely and to be able to progress with natural, old-fashioned style learning with my daughter at this point in our homeschool journey.

If you are looking for a gentle, straightforward, open-and-go ELA curriculum with an old-fashioned flair for a "late bloomer" or a child who is "right on level", I recommend checking out
Eclectic Foundations. Truly, I am encouraged by the fact that I can use
Language Arts Level B for five minutes to a half hour at any given seating to move my daughter forward with ELA skills and knowledge encouraging without prep work for me, busy work for my daughter, or complaining from my daughter.

In all honesty, t
here have been other ELA programs and approaches I have tried with my daughter which I have appreciated for various reasons, but, none have been ideal long-term and none fit our needs of the season.
Eclectic Foundations
Language Arts Level B - with its flexibility, ease, and effectiveness - does! I am happy we were introduced to it through this review opportunity and think others like us will appreciate it, too.
Find Out More

If Eclectic Foundations sounds good to you, but your child's abilities seem below or above Level B, try out another level. You can read about which level might be appropriate at the Eclectic Foundations website.
If you are interested in hardcopy Eclectic Foundations curriculum, don't dally before getting it. The website
notes: "After our current inventory sells, we will be using a different publisher. Unfortunately, this will mean a price increase of our products. Teacher's guides will increase to $15, and student workbooks will increase to $32."

To preview the first four weeks of the curriculum, print out phonics sheets and word cards, or look at Scope and Sequence, find links to pdfs here.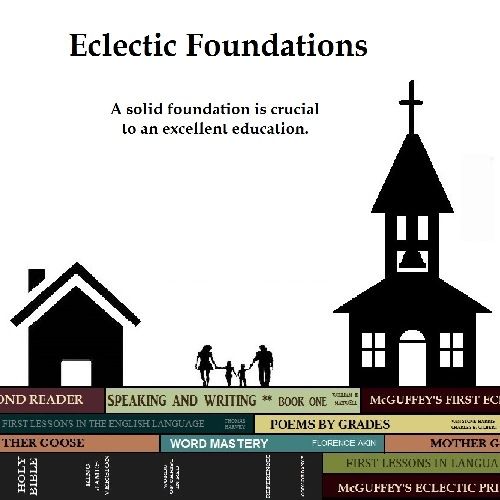 Find
Eclectic Foundations on Facebook.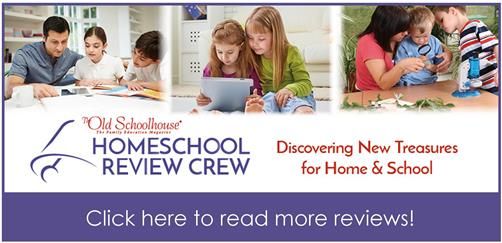 Eighty Homeschool Review Crew families reviewed either Eclectic Foundations Language Arts Level A, Level B, or Level C. See what each family thought of this easy-to-implement, old-fashioned curriculum.